To hear my grandfather tell it, I almost never existed.  From the head of the dinner table Howard Bird, Jr. would wave one arthritis-riddled hand toward his flesh and blood: my brother, my father, my uncle, and me.  "None of you," he'd smile, "would be here right now if I had skied in that race."
It's a cruel irony that as we mature and can better appreciate our grandparents, they age and become less and less themselves.  By the time I was a teenager, my grandfather was in his 70s.  He'd already suffered one heart attack, and now he had painful arthritis.  He took a lot of medications.  Soon he had trouble getting up the stairs.  But when he occasionally mentioned "that race," you could see the years melt away before him.
"That race" was The Tuckerman Inferno.  Not the current version, a springtime pentathlon.  My grandfather meant the original Inferno: the most extreme ski race ever held in the eastern United States.
It was something.  Racers kicked off from the summit of Mt. Washington, skied to the edge of Tuckerman Ravine, tried to weigh how much they valued their own lives, skied over the edge, then continued all the way down the Sherburne Ski Trail, to Pinkham Notch.  For those scoring at home, that's 4 miles and more than four thousand vertical feet.  That's more than the total drop at Vail, Aspen, or Killington — and much of it's far steeper than anything you can find at any of those places.  The original Inferno was so unique and so dangerous that even today it would be outrageous and terrifying.
It's just the type of event that should have had a long and rich history.  But instead it was just a glimmer.  Fickle weather, unpredictable snow conditions, and sheer logistics meant that the Inferno was held just three times: 1931, 1934, and 1939.  Soon after, World War II broke out, and the Inferno never regained momentum.  It made brief appearances in abbreviated forms several times since then, eventually morphing into the present day pentathlon whose final leg consists of a ski down Tuckerman Ravine.  But by the time I was a boy at my grandfather's table, the Inferno hadn't been held in its original, top-to-bottom glory in 50 years.
The last time it was, a tall, skinny college senior who looked a lot like me had entered it.
In April of 1939 my grandfather was a founding member of the Yale Ski Team better known for failing in big races than for winning them.  That spring, with New England enjoying an outstanding snow year and the Inferno set to be held on the last day of his spring break, my grandfather signed up to race in it.  To practice, he spent his two weeks off from school camping at the AMC lodge in Pinkham Notch and skiing in Tuckerman Ravine.  This was his view each morning.  It's Tuckerman Ravine in April of 1939.  Look at that snowpack!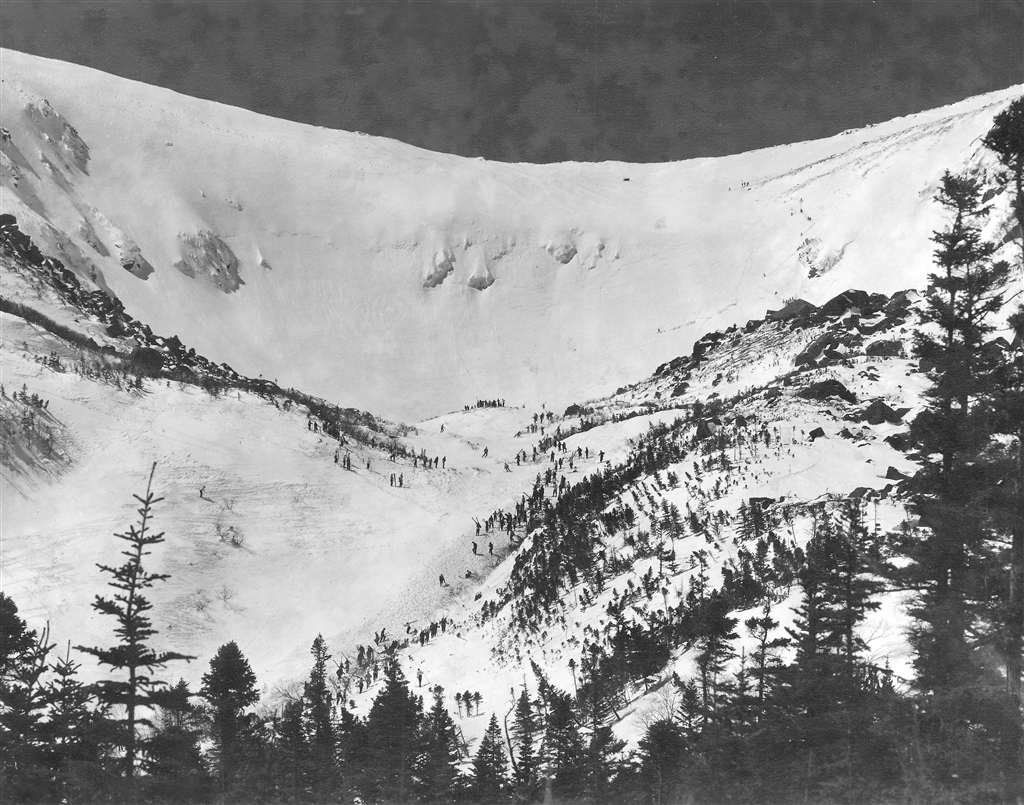 I'd like to pause here and remark on what a bad-ass Howard Bird Jr. was.  Let's start with the fact that he was skiing Tuckerman Ravine in 1939.  Let's start with the fact that anyone skied Tuckerman Ravine in 1939.  For one thing, Tuckerman Ravine is scary.  Period.  In any era.  The first time I looked over the edge, I was 21 and skied five days a week at the Middlebury Snow Bowl and at Mad River Glen.  I'd skied at Squaw Valley and in Alaska.  I looked over the rim and almost shit myself.
And I was on modern equipment.  Have you ever seen the skis those guys were using back in the 30s?  They look like something you buy at Home Depot and nail to your patio.  And the boots?  If you ever want to feel bad about yourself, try skiing down a gentle slope on cross country gear.  You'll be windmilling like a drunk guy in an earthquake.  Now try skiing down the side of a building on them.  That's what those guys were up to back on Tuck's in the 30s.  Those boots had less support than Air Jordans.
Then there's the little matter of my grandfather's workouts, which floor me.  During those two weeks of spring break, he and his buddies would hike from Pinkham Notch to the summit of Mt. Washington and then turn around and ski it without stopping to practice for the Inferno.  Then they'd do it a second time.  In the same day!
But my grandfather never got to race in the Inferno.  A big storm blew through that morning, as big storms often do on Mt. Washington: totally without warning.  My grandfather was already halfway up the Headwall when word came down that the race was postponed.  He put on his skis, turned around, and skied to the bottom.  There would, he must have thought, be other days.
Except that there weren't.  The Inferno was pushed back two weeks.  My grandfather, who didn't have a car, tried everyone he knew, but couldn't get a ride up from New Haven.  To hear him talk, he wasn't sad to have missed it.  Instead, he'd joke that none of us would be alive if he hadn't — because he might have done something stupid trying to win the race.  Still, I have to believe he was at least a little regretful.  Especially because by missing that race, me missed being a part of history.  The 1939 Inferno is legendary in American ski circles for one reason: Toni Matt.  That morning during his run, the nineteen year-old Austrian and future National Champion lost sight of where he was somewhere in the upper snowfields.  Although he'd planned to check his speed before he got to the Lip, before he knew it, the ground was dropping away.  Thinking that if he did try to turn at that speed, he'd surely crash, Matt did something that continues to awe anyone who's ever stood at the top of the Lip: he skied straight down Tuckerman Ravine without turning.  As Matt himself said later, he schussed it.
Not only did Matt win the race, but he scorched the four mile course in just 6 minutes and 29 seconds, an absolute astonishment to anyone who has ever skied over this same distance.  The previous record, set by Olympian Dick Durrance, was over 12 minutes.  Matt's top speed was estimated at 85 miles per hour.
For my grandfather, who was fond of telling this story about Toni Matt, that run from halfway up the Headwall the weekend before turned out to be his last run ever on Tuckerman and his last run on skis for more than twenty years.  It's funny how these things work.  You think to yourself that there will be plenty of time." And then — there isn't.  The years get away from you.  My grandfather lived a remarkable life.  He thrived in international business.  He had four children.  He got to live and work in Columbia, Geneva, Mexico, and New York City.  He once talked Jesse Jackson out of a protest.  He wrote a book.  He lectured on campuses across the country.  He even got to ski again, during 18 months of living in Switzerland.  He taught my father to ski.  They took a few ski trips to Vermont after they moved back to the States (including one trip to Stowe at which they saw a Warren Miller film at the town hall narrated in person by Warren Miller).  But by the mid-1960s my grandfather stopped skiing and never skied again.  By the time I started skiing in the 1990s, health problems had forced my grandfather to give up almost all of the sports he'd loved as a younger man.  As far as I know, he hadn't been back to Tuckerman since 1939.
It wasn't until three years after he died that I finally made it there myself.  My friend Chris and I drove over from college one Saturday morning.  I still remember how improbable it felt: much, much too late in the season to be skiing.  But sure enough, there it was: snow on the side of Mt. Washington, and there was Tuckerman Ravine, a giant glacial cirque way up above the valley.  It looked impossibly steep.  Chris, having forgotten his hiking boots, made the trek up Left Gully in loafers — just the sort of old school gear simulation my grandfather would have smiled at.  We put on our skis and instead of skiing the gully, we drifted across to the top of the Lip, right where my grandfather would have skied.
My first thought was: "Holy s-*t, this is steep." But my next thought was something I didn't expect: "I can't believe Grandpa did this." It was odd.  I hadn't gone to Tuck's with him in mind, but suddenly I was face-to-face with the same rite of passage — totally unchanged — that he'd faced 70 years before.  That it was still so scary, even on my modern equipment and with all of my experience, only made his accomplishments speak more loudly.  It was as though for a brief moment all the time between us disappeared and I could see what a man he had been.  It's not often we get to do that.  Many of the generational rites of passage — graduating from school, getting a job, buying a house — seem so different now from when our parents and grandparents did them that it's hard to feel a kinship in these moments.  But there was Tuckerman before me — and it had been just as steep and exposed back in 1939.  I have to say, I felt a lot of pride as I skied over the edge in his proverbial ski tracks.
I felt the same pride last spring when I made my second Tuckerman trip.  This time it was even better, because I was with my brother, who'd sat at that same table with my grandfather and listened to his ski stories.  It was beautiful out — sunny, 60 degrees, no wind — basically the perfect day on Tuck's.  There were thousands of people.  The air was festive.  We made conversation with strangers on the trail, at the hut, on the floor of the Ravine.  I traded sunscreen for a beer.  Everyone was giddy.  It was all of our last runs of the year, and it was easily the best.  My brother and I stood at the top and I looked out across all of New England as across all of the 76 winters since 1939 and I knew that my grandfather would have approved.  "It doesn't get any better than this," I thought, and pushed off over the edge.
Happy spring skiing in Tuck's.