I took the opportunity during this week — my vacation week — to do some whitewater paddling.  As anyone reading my recent posts understands, I've become obsessed with the North Fork of the Pemigewasset river here in the White Mountains of New Hampshire.  On Tuesday we got some rain, and finding the Upper Pemi — another one of my hit list rivers this spring — too low, I drove to the East Branch of the Pemi.
The East Branch is a New England classic.  This is the river I'd be paddling on for the last 7-8 miles if I run the North Fork.  By the time it reaches Loon Ski area, it's a big river — flowing at just under 1,000 cubic feet per second on this day — a nice medium-low level.  I stashed my bike at Loon, where they're attempting to rebuild the bridge over the river for about the eighth time in three years.
When I got to the put in at Lincoln Woods though, I started to wonder, "What if I walk upstream a little ways and put on higher than normal?" The river was at a nice level, and I wasn't especially excited about just running the usual stretch.  I'd written last week about the time I carried my boat up the Lincoln Woods trail for three miles to Franconia Brook — and about how uncomfortable and draining this was.  I wasn't planning to do this today.  I'd just hike up about a mile or so . . .
Two things made a difference though.  The first was that I just happened to grab one of my car tie-down straps and wrapped it around the boat and looped it over my shoulder.  Suddenly — with my sprayskirt serving as padding — the boat sat happily across my back, with the strap across my chest.  It was surprisingly comfortable.  As I crossed the bridge and began my walk, I started to get the sense I might be able to keep walking for quite a while, as I was not constantly assailed with the kind of discomfort that usually happens almost immediately when carrying the boat on your shoulder.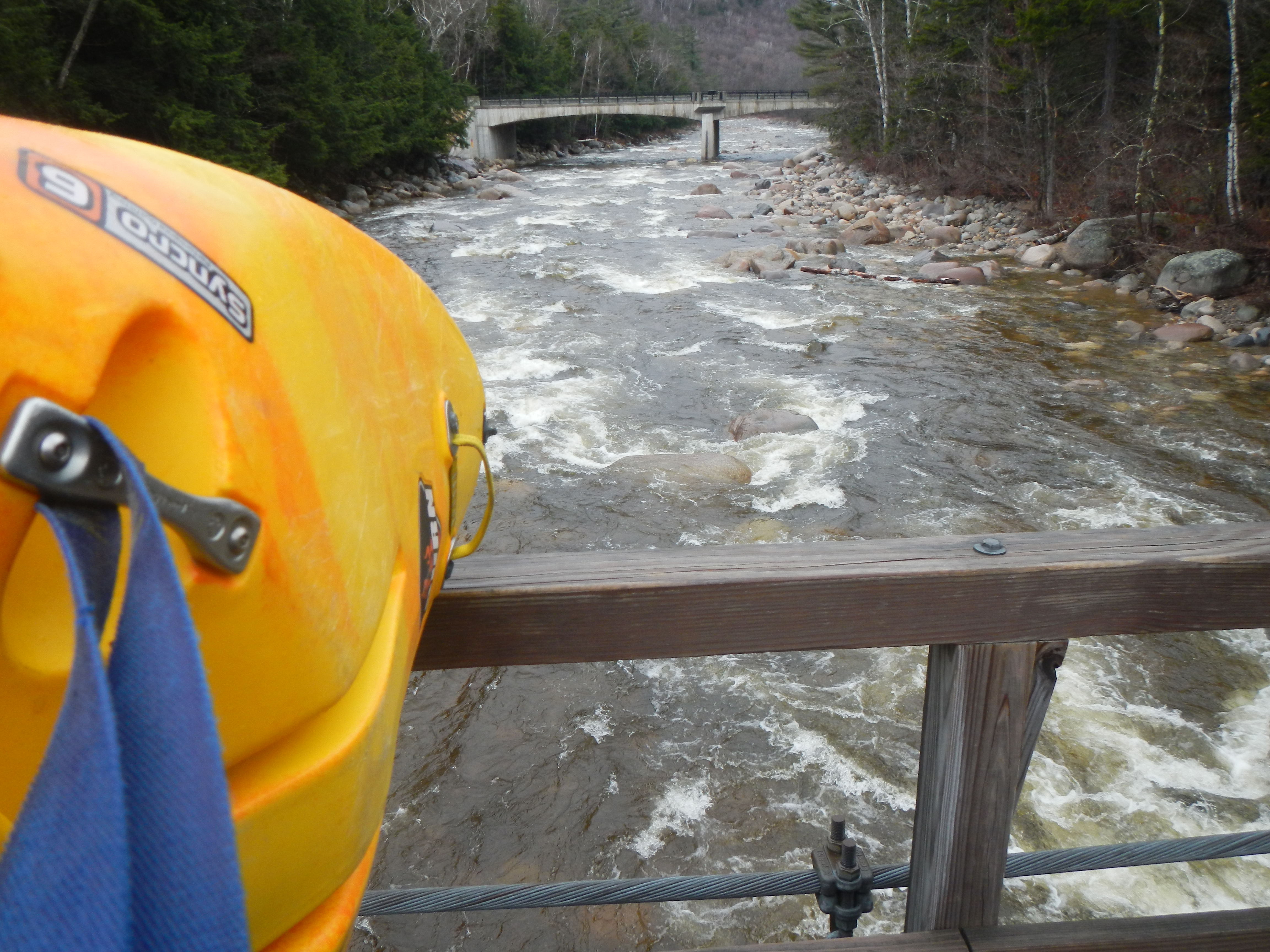 Why didn't I think of this strap idea about ten years ago?
The other thing that inspired me to keep going all the way up was the inordinate number of backpackers setting out on overnight trips.  There was one group of three milling around in the parking lot with overnight packs, another that I saw on their way down the trail, two others that I would pass later coming in the other direction, and then a group of what looked like high school or college-age girls who were just ahead of me.  I passed them just before the Osseo Trail, where they seemed to turn off.  I figured that with the rain and warm temps they'd have a good day up on Flume and beyond.  Based on what I saw later in the day, I'm not so sure they did.
Anyway, every one of these people all gave me weird looks — as if to say, "You do know you have a kayak on your back, right?"
The one nice thing is that the Lincoln Woods trail is the easiest hiking trail in the White Mountains.  It's an old railroad bed, leftover from the days when JE Henry and his loggers pillaged the Pemi Wilderness for every last living tree.  Fortunately the trees grew back: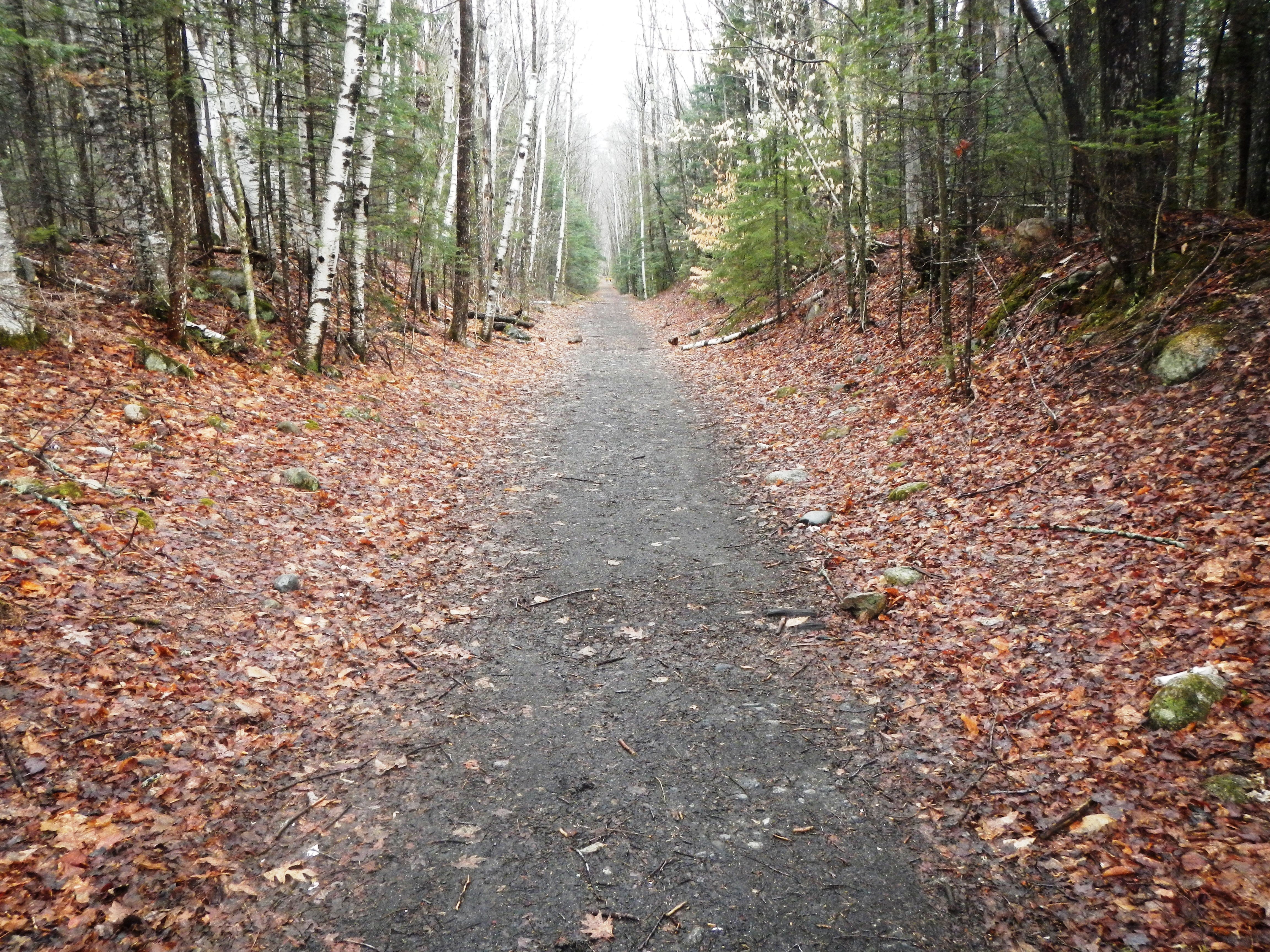 Before I knew it, I'd covered the three miles and arrived at Franconia Brook.  There was a group of what looked like Boy Scouts sitting on the bridge, where I'd put on last time.  A quick scan of the brook showed that it was plenty high enough, so I decided to hike the half-mile up to Franconia Falls to put on there.
I thought that maybe I'd put on and run Franconia Falls, but it didn't look great.  The last slide in particular looks like fun, but there's a big undercut at the bottom where a lot of the water goes, and then the river seems to vent through about 34 different channels, none of them wider than 12 inches.  I put on just below the falls.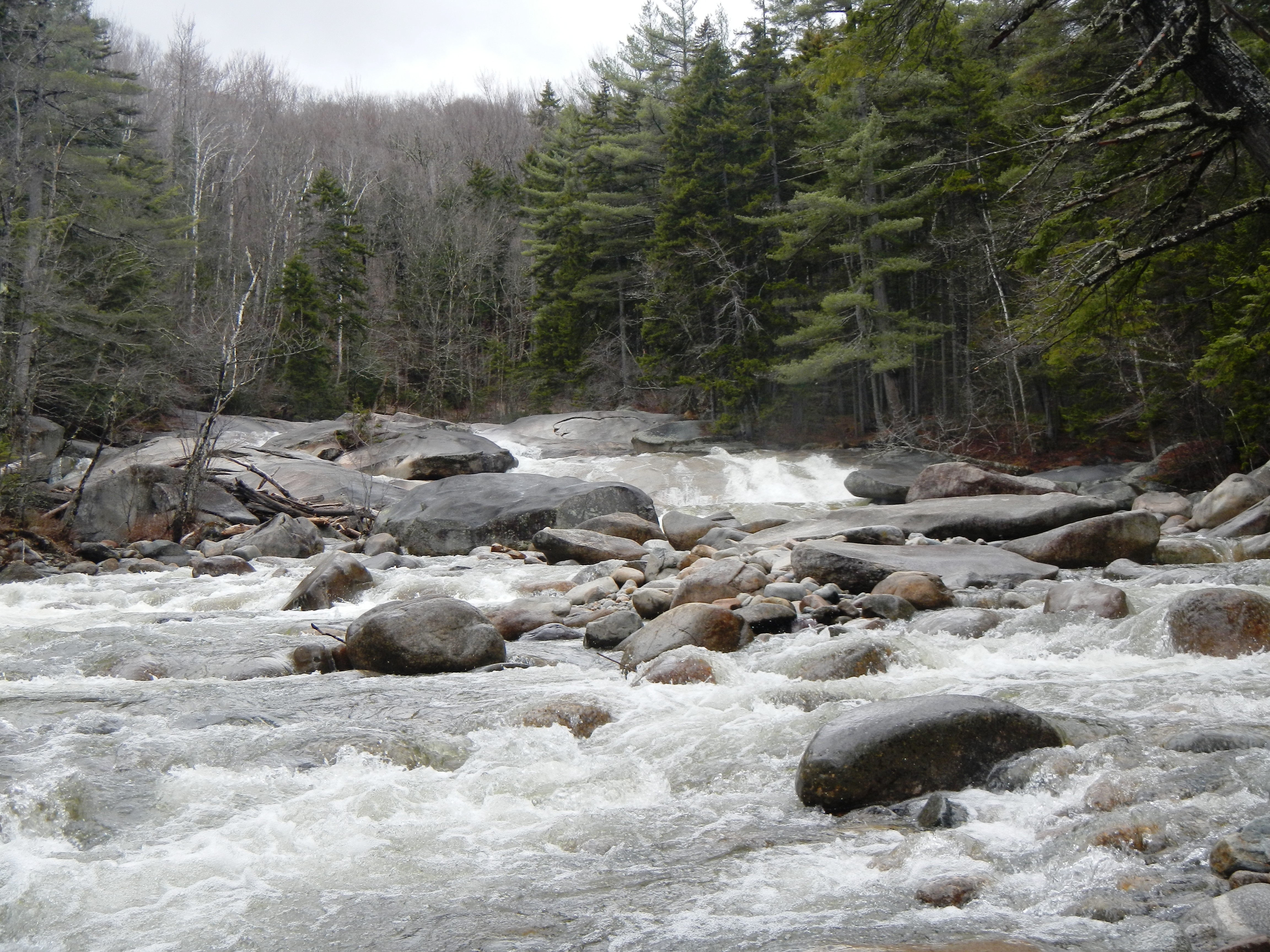 Franconia Brook was fun.  There was plenty of water, and even a couple of fun, steep rapids.  This one below was the best one.
Pretty soon I crossed under the bridge and out into the East Branch of the Pemi.  Looking upstream, to where the North Fork of the Pemi is, the reality of how much water you need to run the North Fork really set in.  On this day, the level was just under 1,000, and I bet you could not have even paddled the rapid just upstream from the Franconia Brook confluence.
(And if that was bony, just imagine eight miles upstream on the much-smaller North Fork.  No thanks.  I can see why you need at least 3,000 cfs.)
The rapids below were fun class II and III and the scenery was great: Scar Ridge out in front, and Bondcliff and West Bond behind.  When I did manage to stop and turn around and look upstream, I realized then that those backpackers who were wearing shorts were probably in for more of an adventure than they might have thought.  Both of the Bonds had gotten snow the night before!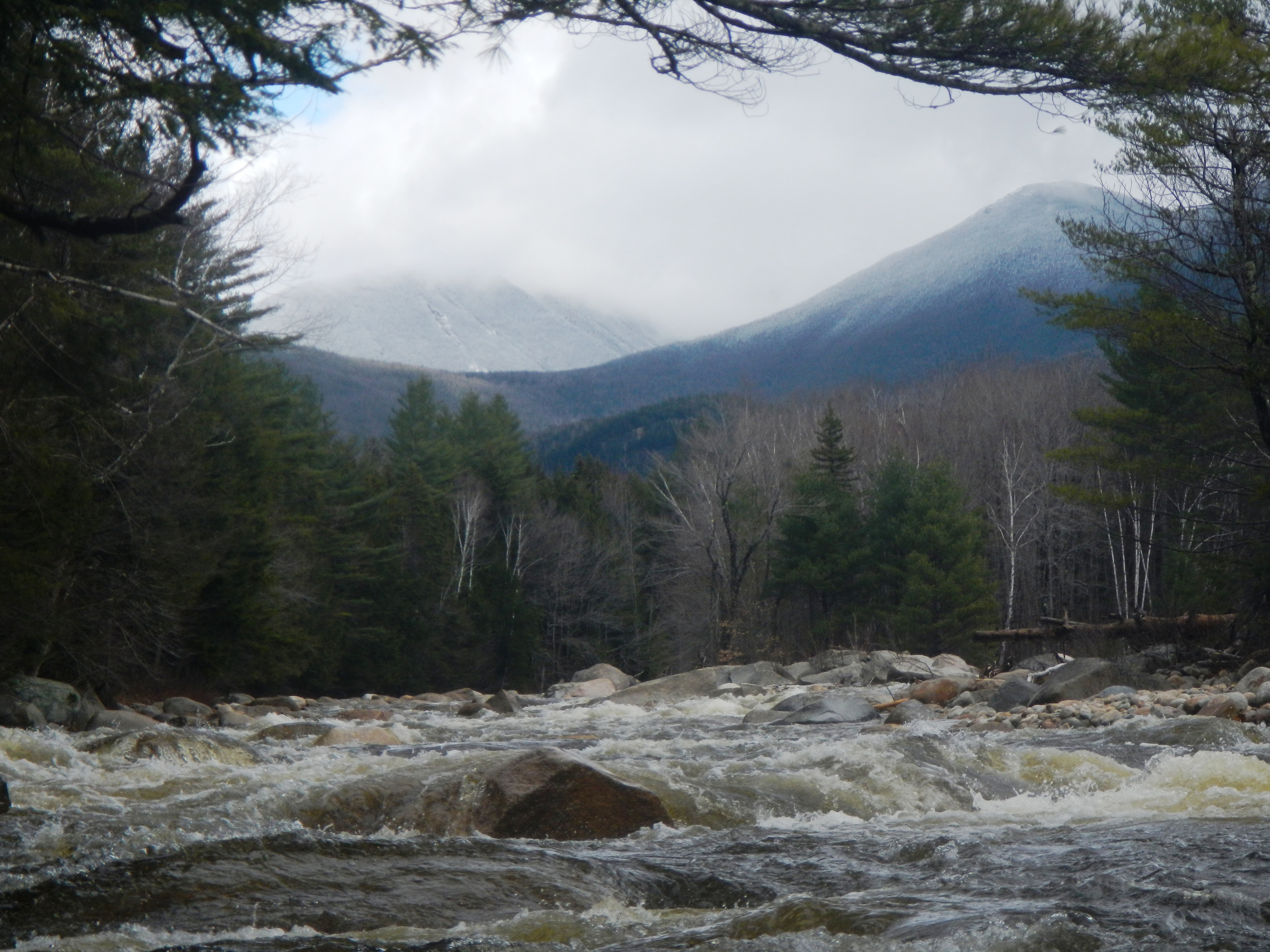 The next day, with more time on my hands, and with a pathological need to, as my fiancee describes it, "get out of the neighborhood," I decided to set off for a quick paddle in the Adirondacks.  My destination was a classic northeast section of river: the Hudson Gorge.
I'm a big fan of finding fun diversions whenever I'm driving anywhere (unlike my financee, who likes to just get there as quickly as possible, with no stops).  Throw me a good river to run on the way, a good deli, a good bakery, a good hike — that's what I need if I'm driving more than about two hours.
I LOVE driving over the top of Route 4 in Vermont, through the high ground.  This area brings back lots of fun memories from a time (2010-2012) when I was doing a lot of adventuring in this area — boating, skiing, flying.  I stopped in at my usual deli on the Killington access road (the Phat Italian — try the Reptile sandwich).  Killington — unsurprisingly — is still OPEN!  It looked like they'd blown an arctic tundra's worth of snow on Superstar.  Everything else had gone to dirt.
From there I drove over the pass.  I absolutely LOVE the view of Pico Peak from the east — it looks so tall, so far up above everything, almost like that lift station at the top is actually built on a different planet.  Every time I drive through there I have to resist the urge to pull off at the Long Trail lot and immediately hike to the top.  On this day I actually might have, but I'd just eaten a big sandwich, so I wanted to drive for a little longer before stopping to hike.
I used to come down this way a lot to paddle the Big Branch and the Cold River, two of my favorites.  Hurricane Irene changed both rivers, something that I'm still sad about.  Out in the distance as I came into Rutland, I could see out to Bird's Eye and Mt. Hanley.  I knew exactly where I'd be hiking.
I decided to hike up Mt. Hanley, also known as Jake's Mountain, known to New England hang glider pilots simply as "West Rutland." There's a 2.5 mile dirt road to the top.  I parked at the bottom and hiked up the road.  It was a lot better than a few years back when a friend and I carried my glider up.  Let's just say carrying a hang glider makes carrying a kayak look *really* easy.
West Rutland, while not that tall, has one of the most dramatic views in Vermont.  I think there are three reasons for this:
1.  You're walking through very dense, large trees — then suddenly all the trees at the top have been cut away.  The wide-open, panoramic view is striking.
**
2.  The mountain itself falls steeply down to the valley, so it really feels like you're on the edge of a 1,200 foot cliff (which is part of what makes it a great glider launch — you want to get away from trees and obstacles as soon as possible).
**
3.  The sight of a ramp that leads straight off the edge . . .  and then ends — is arresting.  It's like seeing one of those gang-planks that pirates used to use off the edge of a boat.  It just ends abruptly at the edge.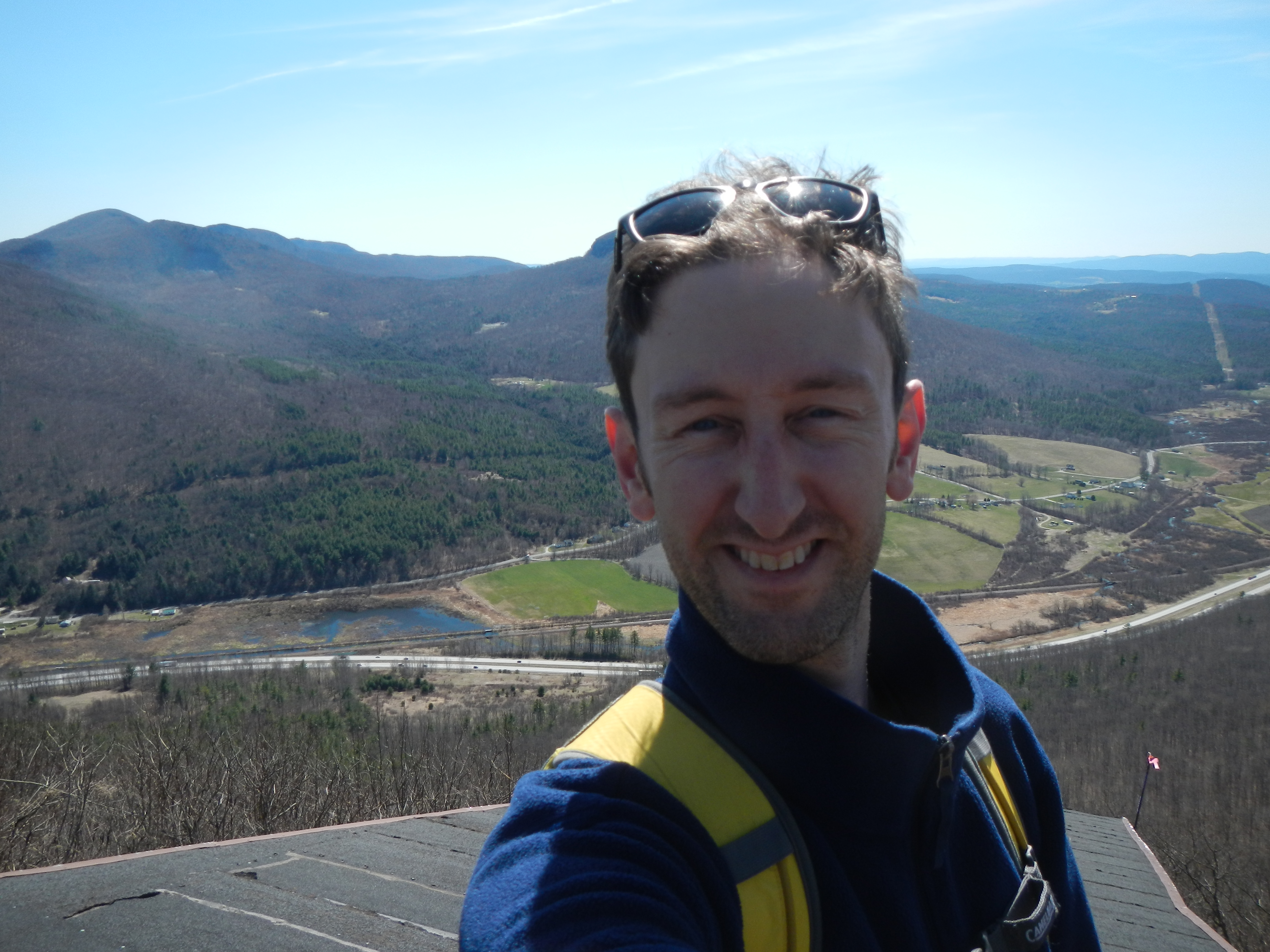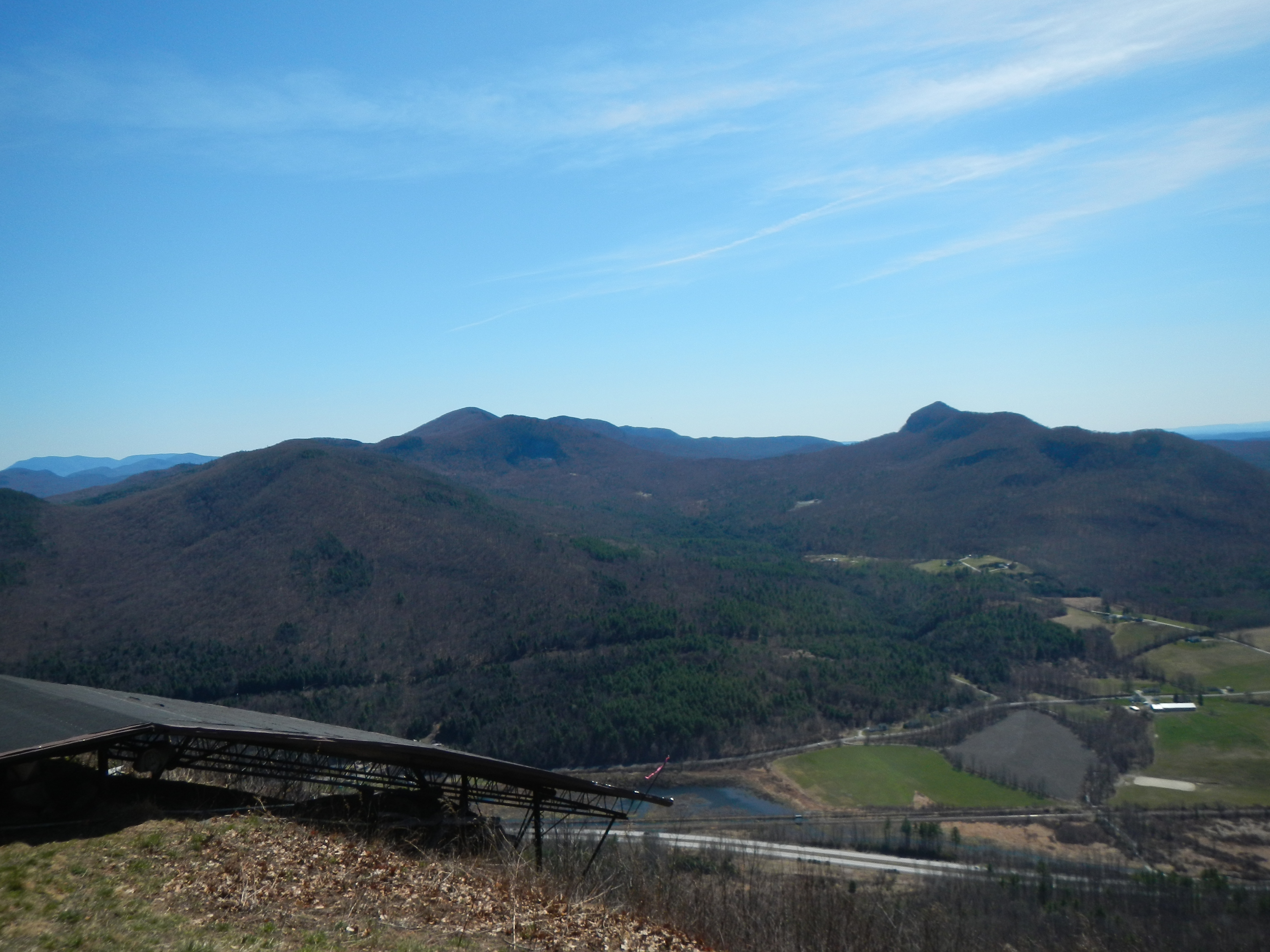 Here's a picture of me on my first launch, back in 2012.  (Art G. photo)
Here's a short video of a West Rutland flight back in 2012.  I forget this guy's name, but it's a great video, and I believe I was flying there that day.  Some great footage both in front and behind him (he had two cameras mounted).
Hiking back down was definitely not as fun as flying back down, but being up there I was reminded of how simultaneously fun but also frustrating being a hang glider pilot in New England was.  It's the ultimate "right sport, wrong region." Anyway, that's a subject for a whole other post.
From there I drove across into New York and headed up to North Creek, where I had dinner.  I'd been there before, back in 2003 or 2004 for the Hudson River Derby, a sort of giant-slalom whitewater race that's been held for many years.  After dinner, I spotted my take out for the next morning, and drove up the shuttle road that I'd be biking the next day.  My first thought was: "Oh man, I'm in for it." The shuttle was on a main road that basically went straight uphill for about four miles, before weaving up and down for the next eight.  I wasn't looking forward to it.
I found a great campsite right alongside the river at the put in, and settled in to enjoy the evening.  The full moon and lingering daylight meant I had plenty of time to put up my tent and arrange all my gear for the next morning, when I planned to get an early start.
I broke camp early and headed into town for some breakfast.  The woman who owned the cafe had a photo of herself with Alex Trebek.  "Were you on Jeopardy?" I asked, happy to have found a fellow fanatic.  Turns out she was.  She told me about the rigorous application process and we talked about the current champion, a professor who nearly set the one-day winnings record the other day against some rather mediocre competition.
Here's a photo of me about to start the ride.  (Yes, I did put a helmet on.) You can see the hill begins just up the road.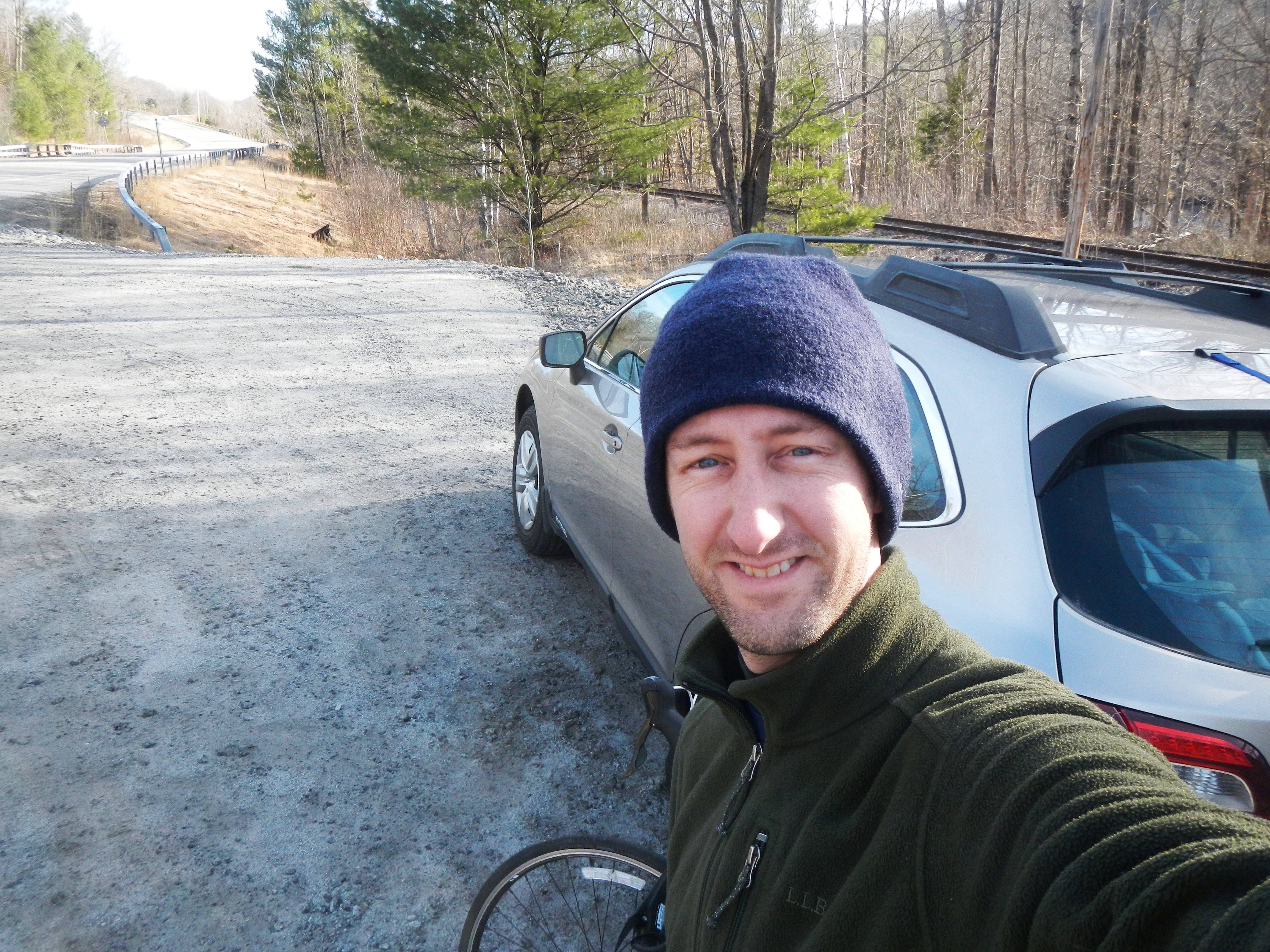 About twenty minutes in, I saw a cop car cruise down the hill, going somewhere very fast.  I looked over and saw the cop give me one of those "What the hell?" looks.  Imagine my surprise when, twenty minutes later, the same cop car pulled up right next to me on the side of the road.
"I have to say," he called through the window, "I am impressed!  I don't think I've ever seen anyone try to bike up this hill!  I thought for sure I'd come back through here and you'd be pulled off taking a long break!" We chatted for a few minutes, he wished me good luck, and then headed back up the hill.  Friendly cops out in North Creek, New York.
Maybe I'm in better shape than I thought, or maybe I was just excited for the Hudson, but the ride wasn't nearly as bad as I'd imagined.  Before I knew it, I was at the height of the land — at the trailhead for the wonderfully named "OK Slip Falls." (You know there's a story behind that one.  My guess is that someone said, "Yeah, I'm OK," . . .  and then slipped off the edge.) From there it was pleasant riding up and downhill toIndian River, where I turned onto the dirt road and found that the dam release had already begun.  The 12-mile ride took just over an hour.  Way less time than I'd budgeted.
First I headed down for a snack at the Otter Slide, a big rapid up above the normal put in.  It looked fun — sort of like Worser Wesser Falls on the Nantahala, but no way after that ride was I hauling my boat upstream a half mile to run it.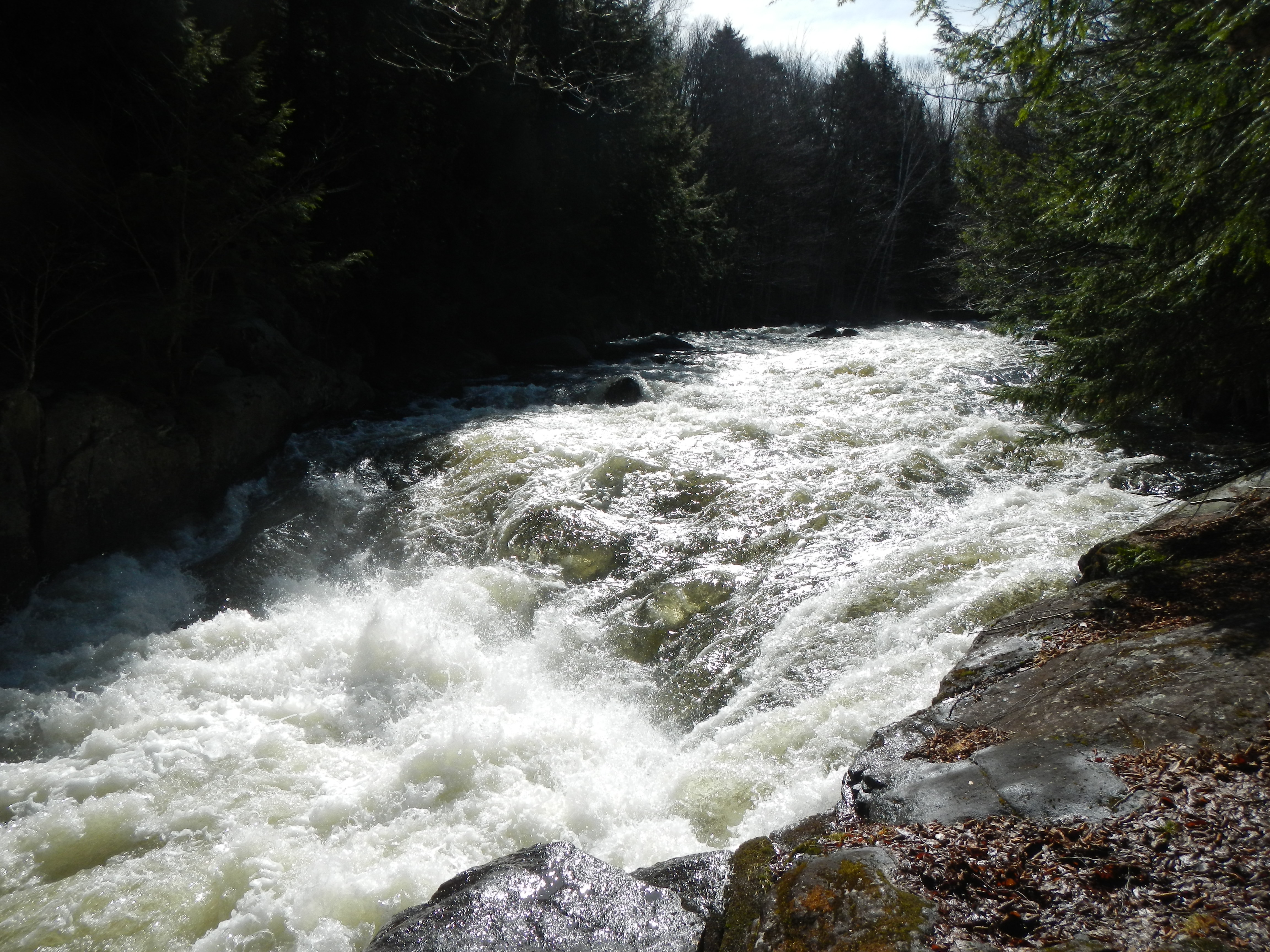 I headed down to the usual put in and found two different raft companies inflating boats.  Even on a Thursday in April, this wasn't surprising.  Raft companies pay for all of the whitewater releases on the Hudson, so I imagined they'd try to take customers down any day they can.  Here's the view from my campsite the night before down to the river.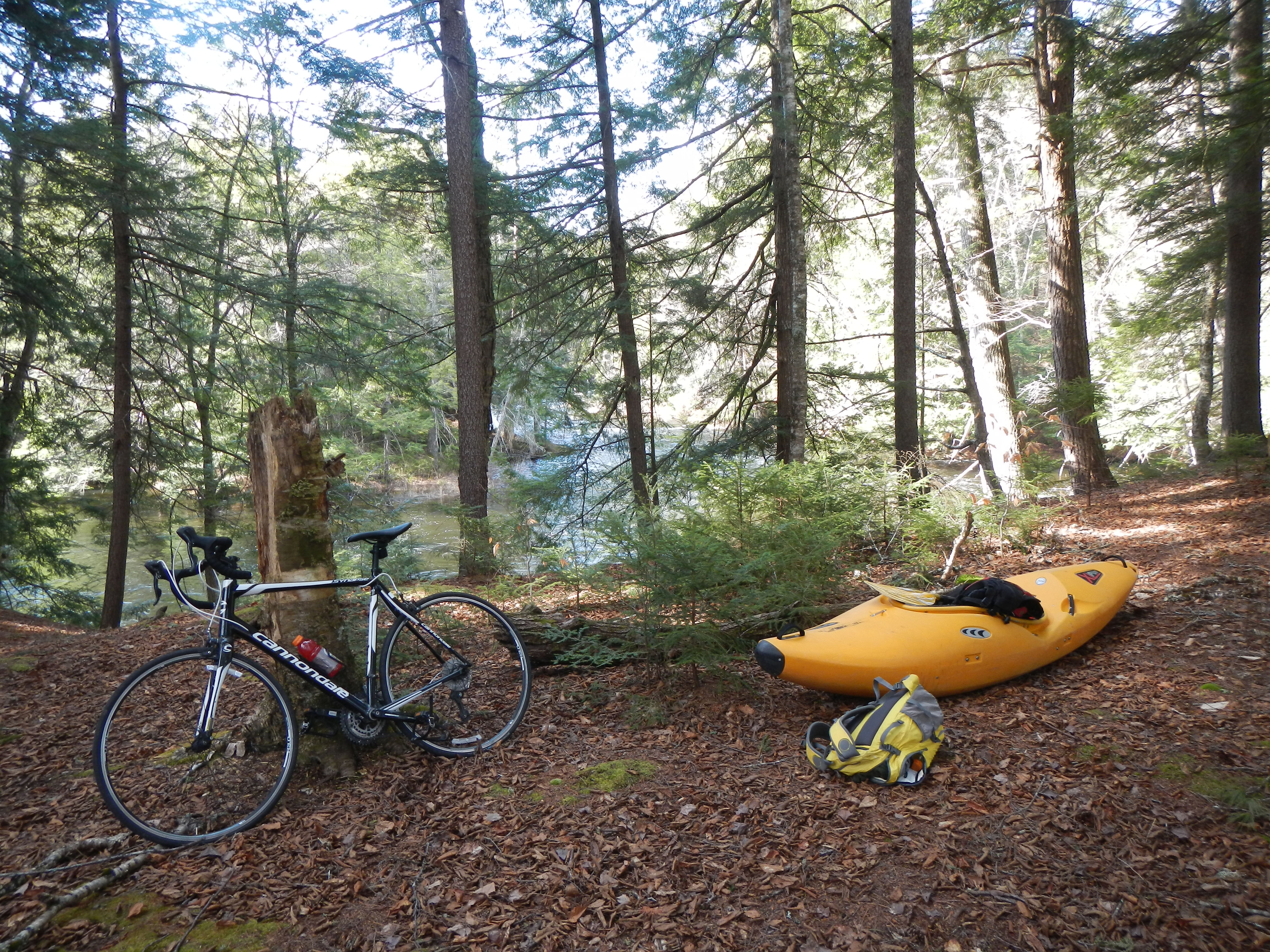 In my experience, the best whitewater on the Hudson Gorge isn't even on the Hudson — it's on the Indian River, which is what you're running for the first two miles.  That's where the dam is that releases the water, and it's these releases on the Indian that actually make the Hudson runnable.  Water was spilling over the dam all night on the Indian though, so there was already a good bit of water in the riverbed and the release itself only appeared to bump the river about 140 cfs on the gauge.  This brought the river up to about 4.3 feet, or about 1,840 cfs.
I'd been trying guess how much flow was in the river.  My guess was that the Indian — which felt just like the Savage River in Maryland — had about 1,000 cfs in it, and that the Hudson had about 800.  Turns out I was pretty much dead on.
The Indian was FUN.  It was basically two straight miles of constant, class III+ rapids.  Nothing big or hard, just pedal-to-the-metal river running.  I loved it.  Here I am catching probably the only eddy on miles.
There were a lot of rapids like this.  Some big holes too, but you were moving so fast that it was fun to just punch straight through.
One of my favorite moves has become to try to lean back and boof the bow so that the boat skims straight across the big holes.  I perfected this move on the Upper Yough, at a rapid called Wright's Hole, which had a giant hydraulic you could skim across.  There was plenty of chance to practice on the Indian.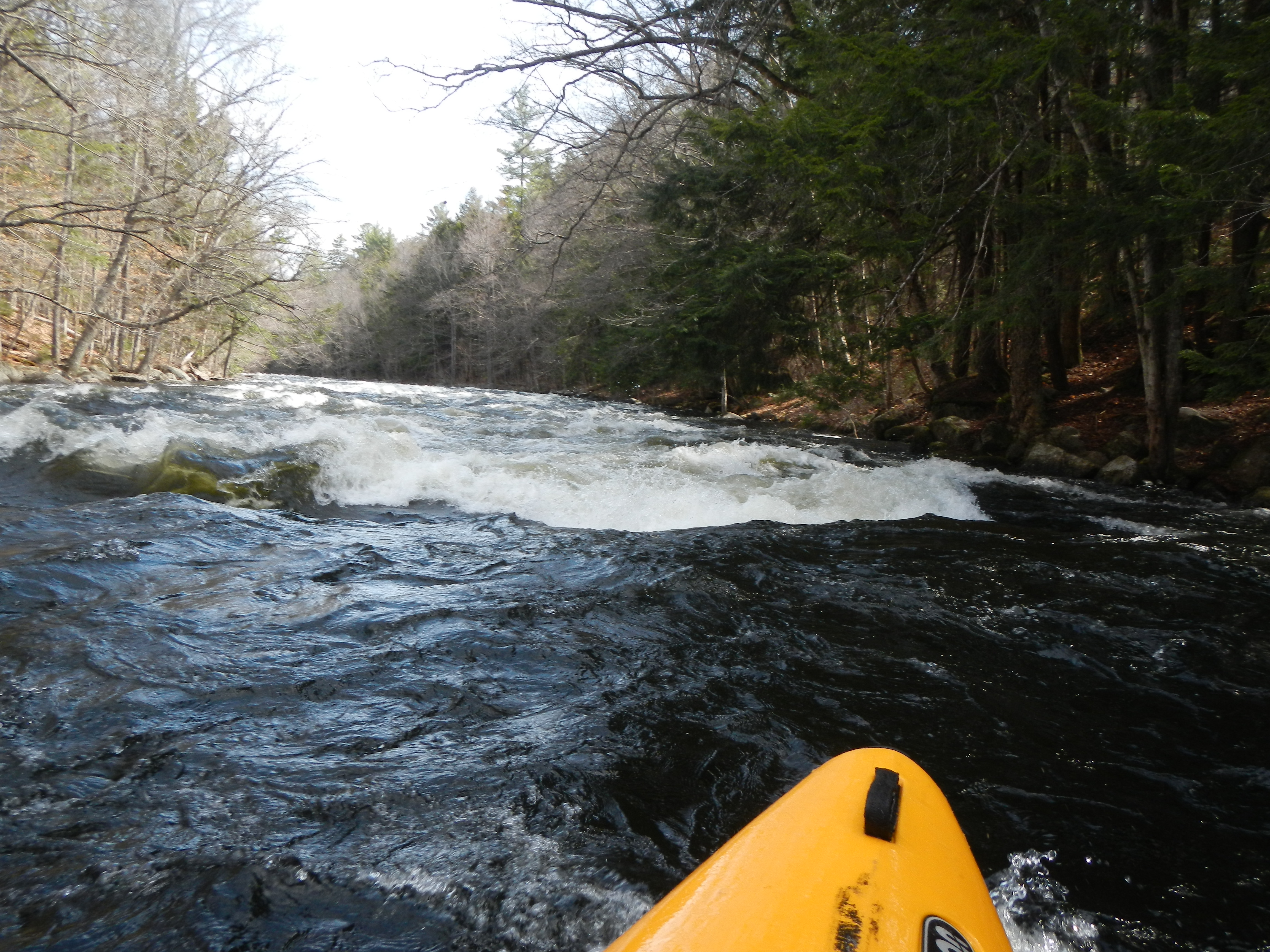 It was quite a feeling of setting off into the wilderness too, knowing that the Hudson Gorge is really, really out there.  Every mile I paddled on the Indian was taking me deeper into the wilderness and closer to where I'd meet the Hudson.  I'd actually tried to find a hike I could do the day before that would look into the Hudson.  Unfortunately though, there are practically no hiking trails that get you even close to the gorge.
After two miles on the Indian, which took about 14 minutes, I made it to the confluence of the Hudson.  I looked around behind me, and to my horror several of the commercial rafts were not far behind.  I snapped a quick picture, then paddled away.  The day was incredibly beautiful and I was interested in solitude, not the howl of raft customers having water fights.  Hard to believe that this beautiful, pristine river eventually becomes the polluted mess that you see down around Manhattan.
The day was beautiful — blue skies, sunny, and temperatures warmer than they'd been in six months.  By the time I took out, it was 72 degrees.  Warm jets of dry air kept shooting up the gorge.  My lifejacket would get wet in the rapids and then quickly dry in the flatwater.
The first few miles were easy paddling.  I spent most of the time gawking at the scenery.  Then things started to get interesting, with this long, fun class III rapid.
There were a few more fun rapids like this, then a huge cliff in the background, which is called Blue Ledge.  It reminded me of a similar ledge and corner on the Gauley River in West Virginia called Canyon Doors.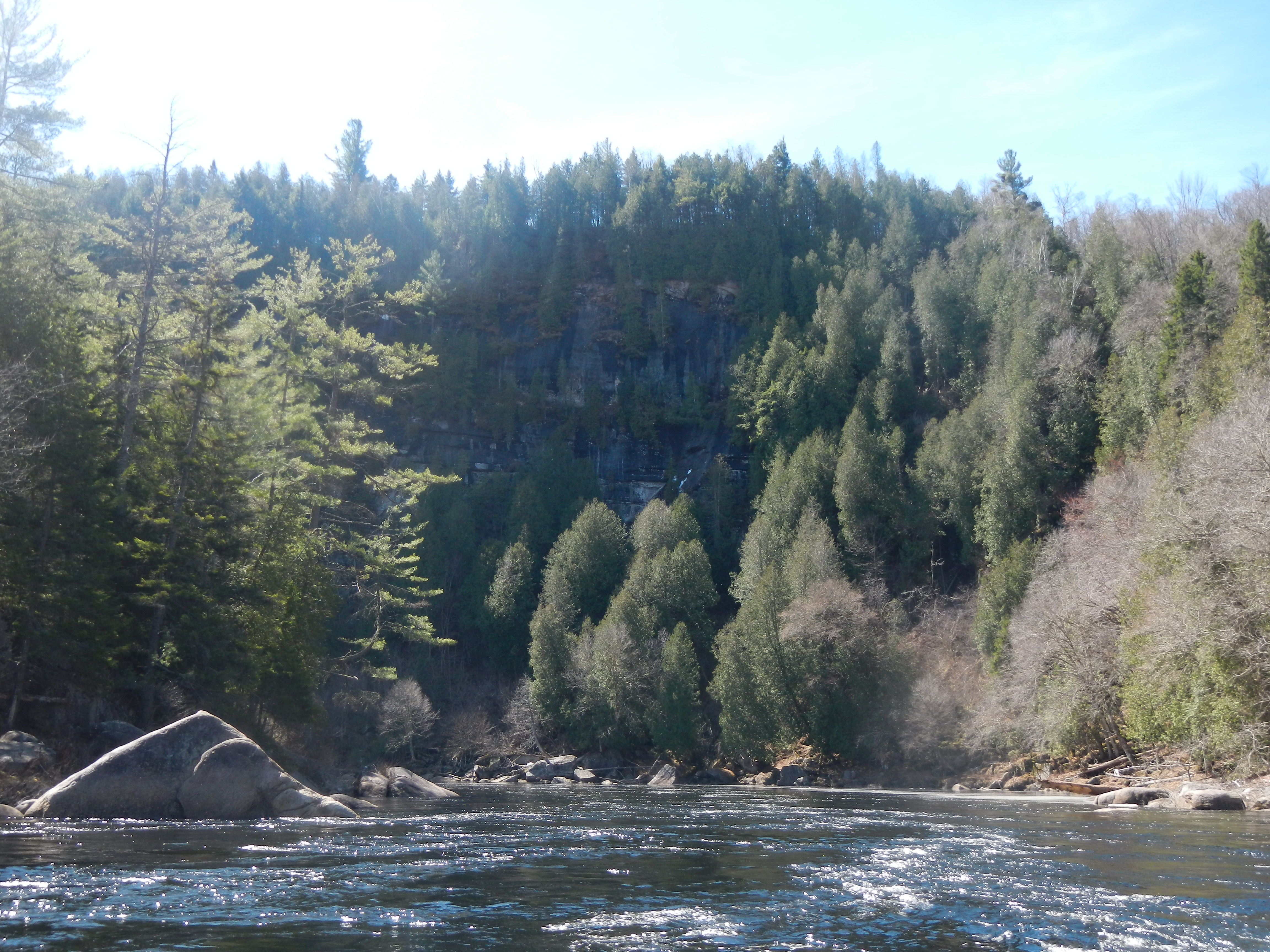 During this time I caught up with a woman I'd seen at the put in.  She was rafting the gorge by herself and runs a raft company in North Creek called Square Eddy Expeditions.  We talked for a few minutes and then I paddled ahead.  Here's a view of her paddling through the rapid just above the Blue Ledge view.
The water level at 4.3 was medium-low.  There were probably 8-10 class III-type rapids in the next few miles.  I couldn't stop making comparisons in my head to other rivers with large gorges that the Hudson reminded me of: the spectacular Little River Canyon in Alabama, the wild and beautiful Chattooga River in Georgia are the two that came to mind first.  The gorge walls of the Hudson, while not as steeply dramatic as other rivers, still tower over the river and give you a strong sense of isolation.  With the sun shining on the river, I was so content I could almost taste it.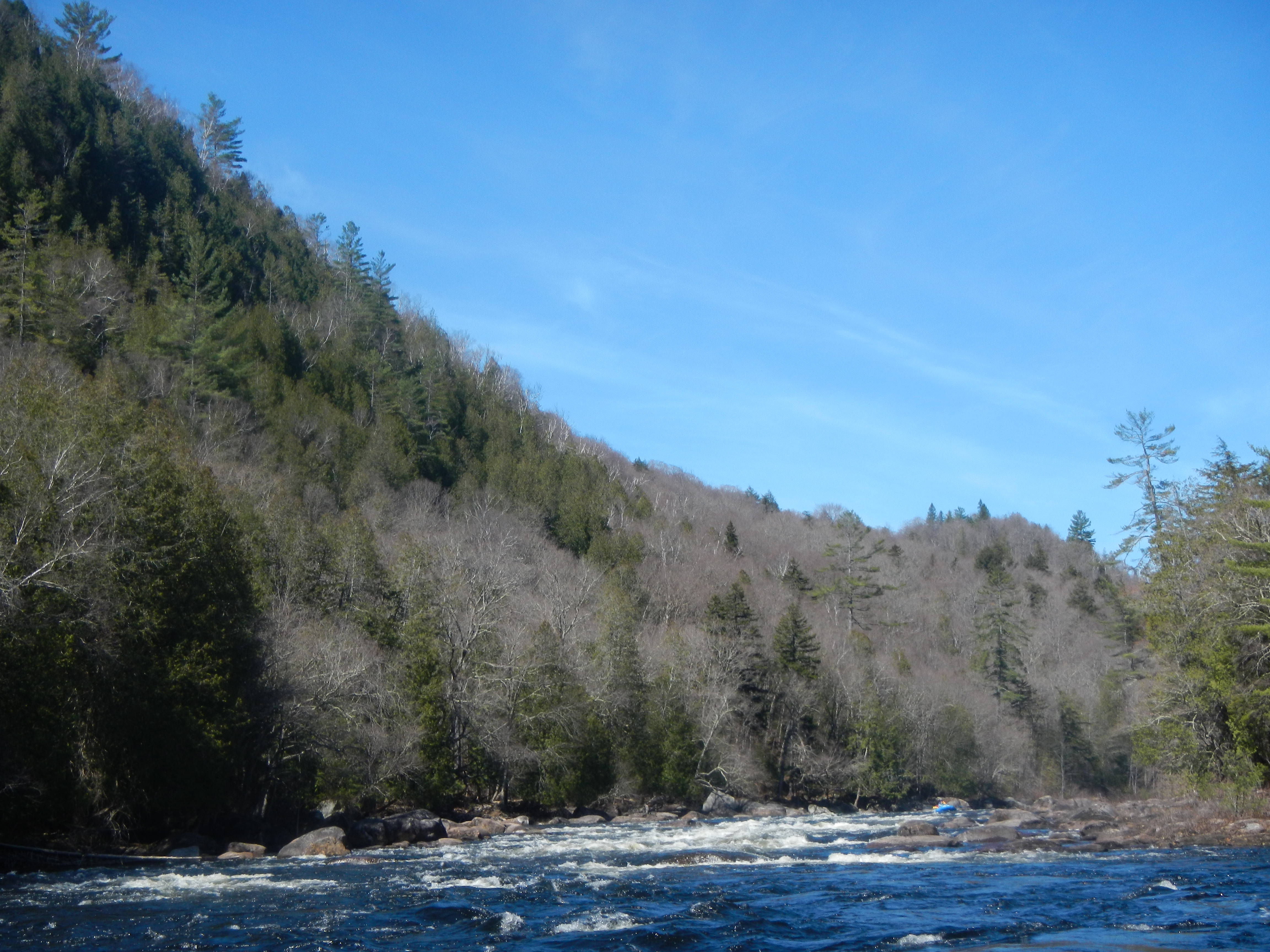 This one below was a nice rapid.  A little more water would have been nice, but who can complain on a day like this?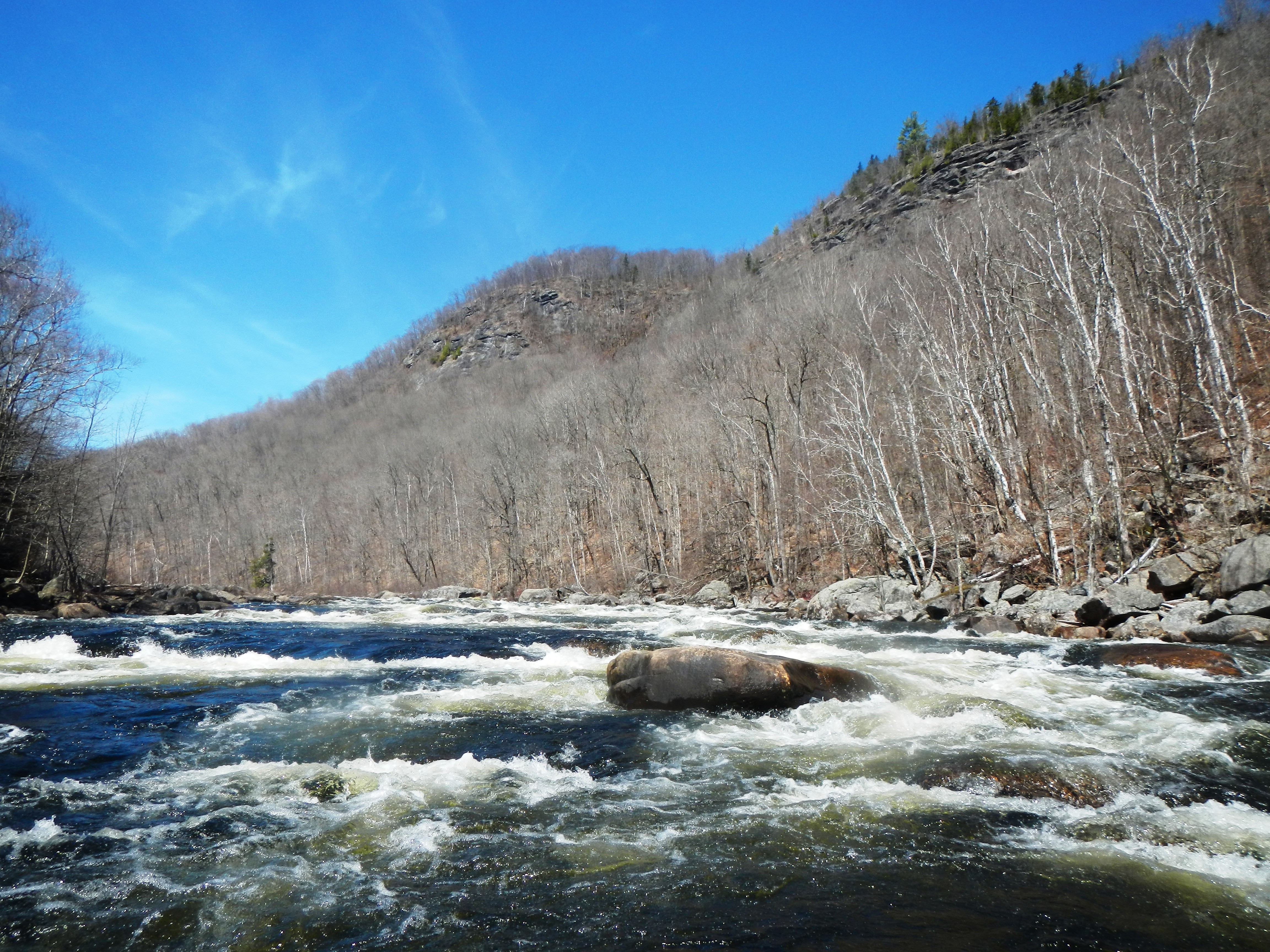 I passed the confluence of the Boreas River, a great section that I've paddled several times.  A few more miles later and I was back at the take out, basking in the warm weather.  All my gear was dry before I was done putting the boat on the car!    After a quick return to the put in to get my bike, I was headed home.  Amazingly, as I passed through West Rutland on Route 4 and was craning my neck to see the hang glider launch, I saw a pilot circling just above the highway, getting ready to land in the big field landing zone.  I've done this many times myself.  It was fun to see it from below.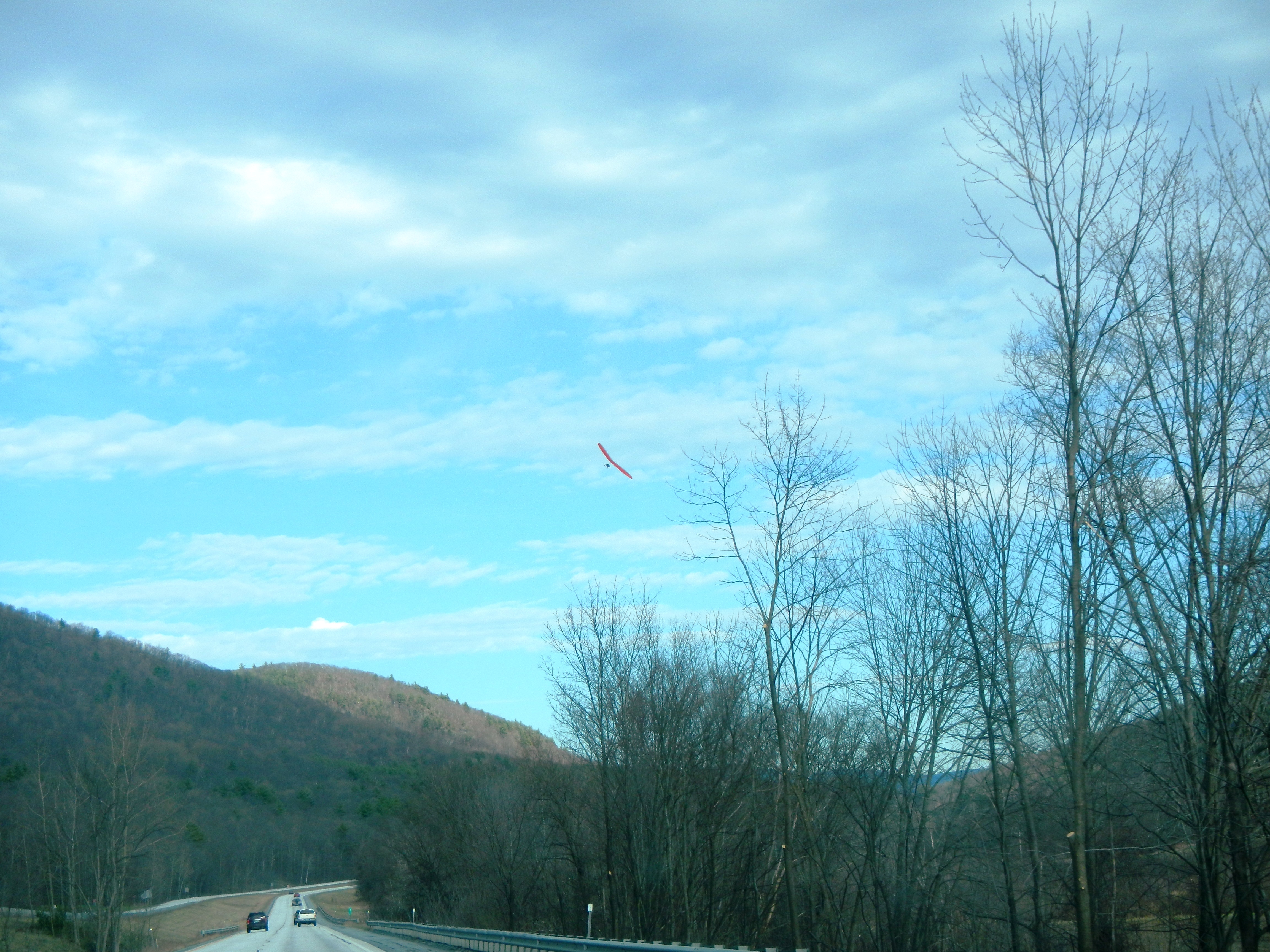 Overall, the Hudson Gorge is a true classic, and I'm sorry it's taken me this long to paddle it.  More than just the whitewater, it's the experience of running New York's major river far up in the mountains where it's pristine and beautiful, that makes this trip so worthwhile.  Added to that a spectacular, isolated river gorge with no signs of human intrusion, twelve miles of fun, challenging whitewater rapids, friendly locals, and one of the most beautiful sunny days we've had so far in 2016, and this was a highly memorable trip.  It was interesting to think about a lot of northeast kayakers paddling this river so often back in the 1970s and even 1960s.  I'm glad I got a chance to do so myself.