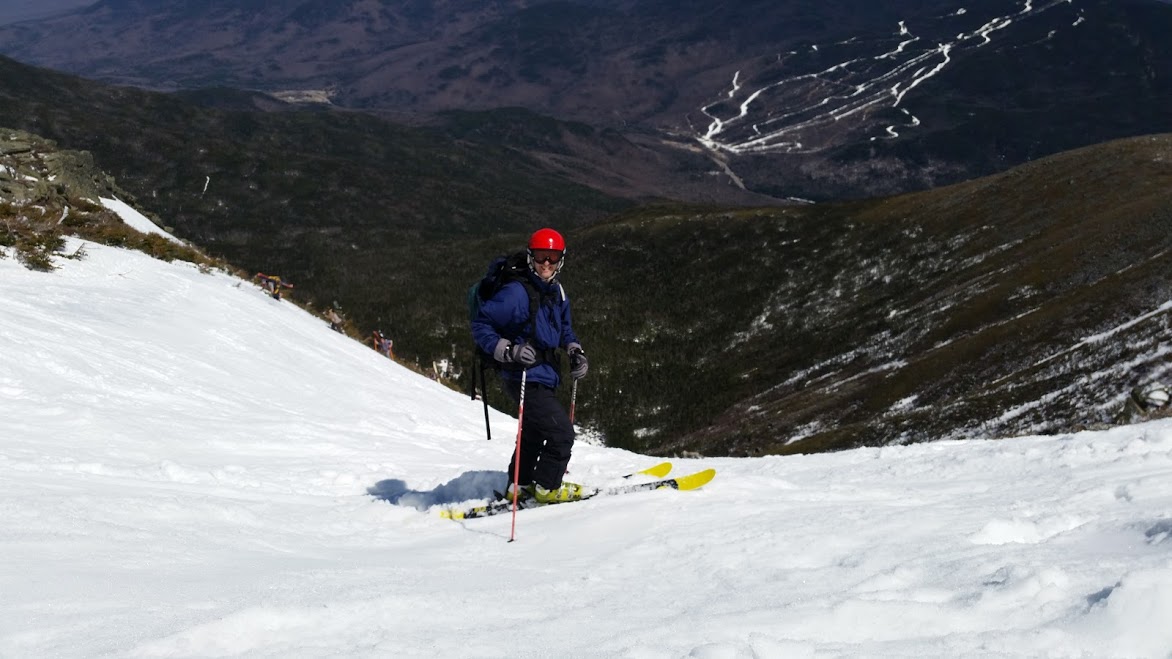 A few years ago as I was standing on top of Tuckerman Ravine on Mt. Washington, New Hampshire,  a new and unpleasant thought occurred to me.
"I really don't want to fall."
I was staring down what looked like an elevator shaft covered in snow, called Left Gully.  That year the wind had blown the snow especially deep at the lip of Left Gully, creating a cornice that has been measured at 55 degrees.  Shortly below, Left Gully "flattens" to an average of 35 degrees.  In fact, Left Gully is one of the "easier" ski routes there; many other lines in the ravine average 40 degrees.  Tuck's veterans have compared it to "skiing off the edge of a marble."
"I really, really don't want to fall."
"But I might."
Well, I didn't.  Part of the reason was because with the hundreds of spectators watching me, I was pumping out so much testosterone,  I probably could have lifted a car.  Making a few jump turns was no big deal.  Part of the reason was that the afternoon corn snow — a close cousin to fresh powder — was almost comically soft under my skis.  Every turn was like slipping into an easy chair and being handed a drink at end of the day.  By the time I got to the bottom of the elevator shaft, I had a grin on my face that would make you want to give up grinning.  Forget falling — one turn in and I didn't want it to end.
But here's the thing: the fact that Tuck's is so steep that it makes you think about falling — even if you've been skiing since one-piece Bogners were stylish — is pretty remarkable.  There are a lot of things we love about spring skiing on Mt. Washington — the sunshine, the soft snow, the camaraderie — but the adrenaline rush of staring down a slope almost as steep as your kitchen wall is surely one of the biggest reasons we keep going back for more.
What's interesting is that skiing doesn't usually feel like this.  If like me you have been skiing for a while, but have only done so in-bounds at ski resorts, chances are you've probably forgotten what it's like to feel your heart rise into your throat.  The reason is simple: most ski trails aren't that steep.
Look at the numbers.  Gunbarrel, the steepest trail at Ski Sundown in Connecticut back when I started skiing in 1992, is just 19 degrees.  Sure, it's a ski trail in Connecticut, but it's steep enough.  Lengthen it, stick it on any mountain in Vermont or New Hampshire, and it's still a black diamond — a trail designated for experts only.
But Gunbarrel is *half* as steep as Tuckerman Ravine.  Half!  If Gunbarrel is an expert's trail, what is Tuckerman?
Consider perhaps the steepest, most famous expert trail in the East: Killington's Outer Limits.  I'll never forget how scared I was the first time I skied it.  It felt like skiing off the side of a building.  By the time I was 14, my mother would drive us up to Killington for the day and hunker down at the Bear Mountain lodge while my brother and I lapped Outer Limits's Subaru-sized moguls from first chair to closing.  I loved it just as much because I enjoyed the challenge as because I felt proud skiing one of the East's steepest expert trails.
Outer Limits averages just 29.5 degrees.
For better or for worse, 30 degrees is about as steep as it gets at New England ski resorts.  You've got Stein's Run and Upper F.I.S. at Sugarbush, Starr at Stowe, Avalanche at Cannon, Paradise at Mad River Glen.  Those trails were early test pieces for me.  But I felt completely comfortable skiing them by the time I was first learning to open my school locker.  By the time I was 17, when I stood at the top of Outer Limits, falling never occurred to me.
Right as skiing became comfortable, I sat in my first whitewater kayak.  Within a year, I paddled toward the edge of a 20-foot waterfall, my heart rising straight into my throat.  A year later, I got into my boat and started paddling down a river that had killed an expert kayaker — and which I knew might kill me if I made a mistake.  Approaching a big rapid, I felt a sense of fear that I rarely felt in skiing anymore.  But at the bottom of the rapid, after I had survived — and especially if I had paddled well — I felt a sense of pride, achievement, and togetherness with my friends that I had never felt while skiing.
Until I discovered Tuck's.
Now I'm hooked.  Who knew skiing could be so scary again — and so fun again?
Two years after my last run, I finally made it back up to the ravine again last weekend.  I had spectacular weather — 60 degrees, blue skies, and that same magical corn snow — and good company.  Skiing Tuckerman Ravine is a remarkably pure experience.  We rode no lifts, sat in no lodges, and ate only what we carried in.  We skied a different line than I'd done last time.  Once again it was the steepest skiing I'd done all year.  After I put on my skis, I stood for a moment, looking over the edge.
"I really hope I don't fall."  I paused.
"But I've done this before.  And that feeling right now?  That's the best part."