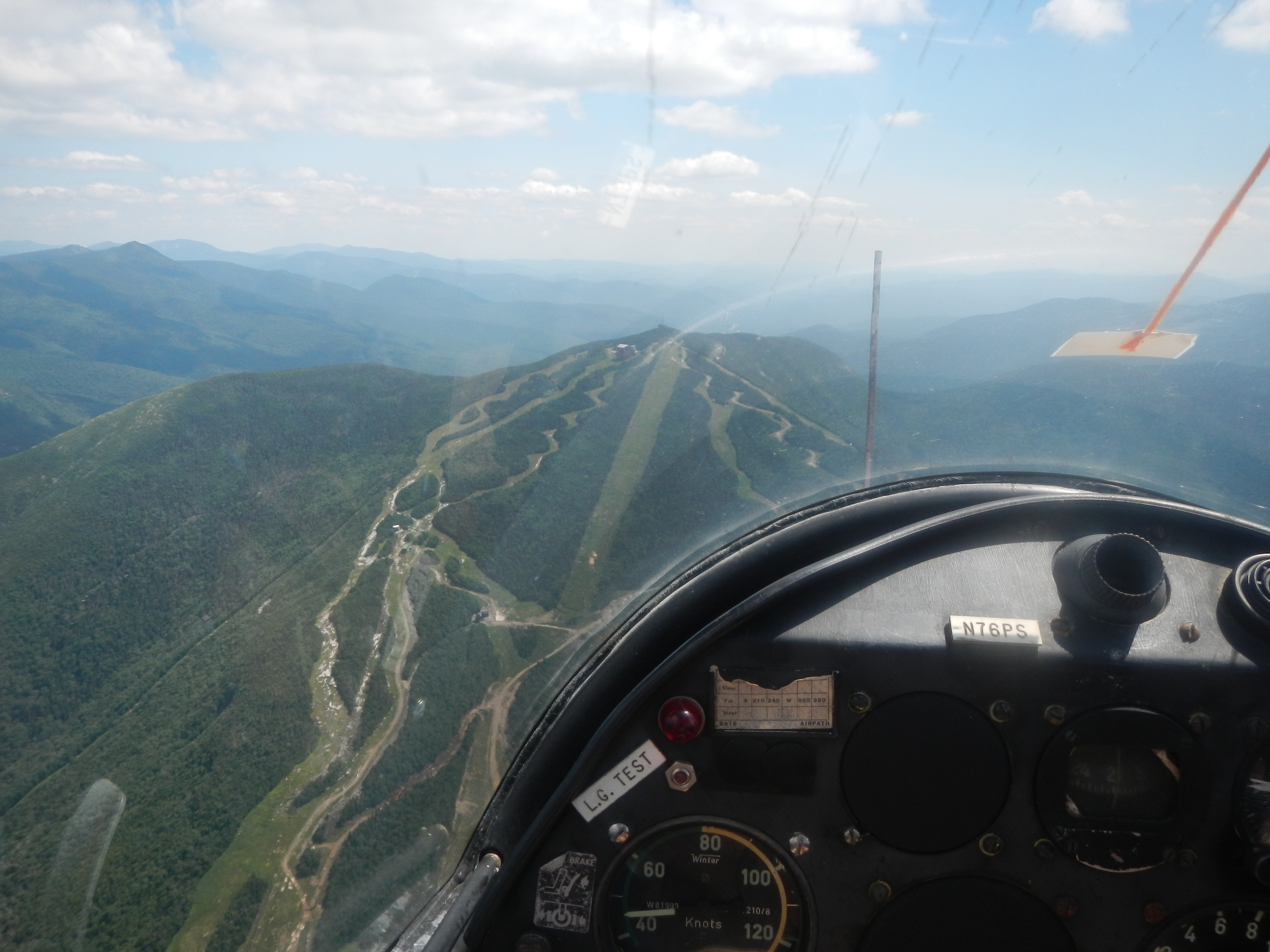 ***
A few years ago, I was eating lunch on Mt. Lafayette when I looked up to see a small plane bearing down on me.  
Normally you hear a plane long before you see it.  But this time the only noise — other than the din of forty hikers gone quiet — was a gentle swish.  
Just as I was about to lunge behind a boulder, the plane banked right in front of us, cutting an impossibly tight, searing radius.  Then — swish! — it was gone, tearing back down the Franconia Ridge.
"What was that?" the man next to me asked, open-mouthed.  "A drone?"
"No," I said, "a glider."
***
At the time I'd been hiking seriously in New England for just a few years, but already I'd begun to see gliders — although none so close — from a number of mountain summits: Mt. Ascutney, Mt. Mansfield, and Mt. Abe in Vermont.  Each time I was struck by the quiet, and by the sense of freedom I felt just watching them.
A few years later, I moved to Littleton, New Hampshire, not far from where I'd first seen the glider above Lafayette, and set about discovering where it might have come from.  The answer was easy to divine: the Franconia Soaring Club, an all-volunteer group devoted wholly to the sport of gliding (or "soaring"), based at a small grass airport near Cannon Ski Area.  I emailed the club president and within hours was corresponding with the man who, in all likelihood, was at the controls of the glider I'd seen above Lafayette.  
"We'd love to have you!" he wrote.  "Stop by the airport this weekend."
Days later I found myself in the front seat of a two-person glider, being towed by a 200-foot rope behind a power plane up above Cannon while an instructor in the backseat manned the second set of controls.  
It was exhilarating.  The glass cockpit afforded remarkable views of all of the peaks I loved hiking: Cannon, Lafayette, the Kinsmans.  Inside it was so quiet that we could chat comfortably.  The small, light fuselage responded to every air current in a way that at first scared but soon thrilled me.  Within a few months of weekend lessons, on my 27th flight, I flew solo.  Two years later, having passed my written and oral exams, on a very windy day I passed my flight test and became an FAA licensed Private Pilot.
Nationwide, participation in private aviation is down, especially among young people.  At thirty-five, I represent a nearly-absent demographic in the sport of soaring.  Yet gliders comprised my only realistic entry into aviation.  With a teacher's salary and a mortgage, there's simply no way I could have afforded the $150-200 per hour fee of powered airplane instruction.  But gliders?  Not only are they far cheaper to fly, but our club owns five, all of which I'm free to use until the day I buy my own, which is to say the day I win the lottery — or at least enter a profession more lucrative than public school teaching.
As in most of the unique hobbies I've had, it was the people in the sport who made the biggest impression on me: a remarkable collection of commercial airline pilots, ex-military pilots, teenagers who fly before they drive (you can solo a glider at 14), and aviation lifers — all of whom who ride the air currents above the White Mountains on flights of one, two, four, sometimes seven hours — and which take them as far as Mt. Washington or even Vermont — all without an engine.  Despite that I paid zero dollars for instruction — just the club's yearly fee plus a per-flight fee — my training was nothing short of exquisite.  With actual aviation professionals putting me through my paces, it was amazingly rigorous and thorough — a far cry from the school-of-hard knocks program with which I'd picked up snowboarding around the same time.  By the time I was licensed, I was prepared.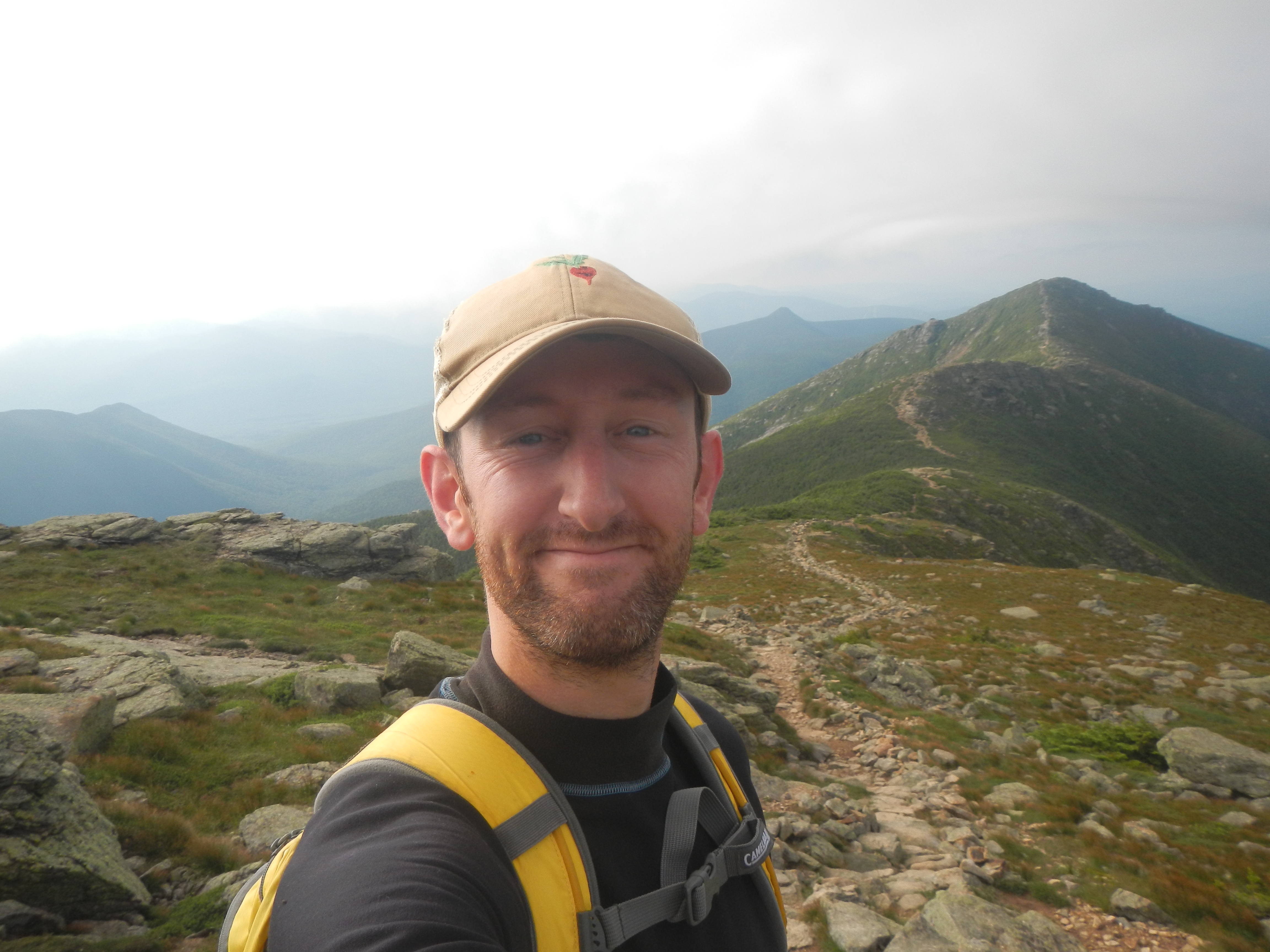 ***
I'll never forget the first time I surfed Cannon Mountain.  
The wind was blowing from the north.  "Fly right across the ski area,"  my instructor told me.  "We'll start going up — just watch." Sure enough, just above Cannonball ski trail, we did.  Back and forth we went, staying aloft on wind funneled upward by the mountain.  It's like you're surfing an invisible wave.  We call it "ridge soaring." It's amazingly fun.
Suddenly my favorite hiking peaks became the features in an aerial terrain park.  When the wind blows west, a glider can surf up and down the Cannonball Ridge between Cannon and South Kinsman all day long.  I've spent hours just exploring the updrafts above Mittersill, looking down at the old Tuckerbrook Ski Trail — or zooming around the bowl between North and South Kinsman.  Guys in my club surf their way — stopping to catch columns of rising air called "thermals" — all the way across Lafayette, Garfield, the Twins, and on to the Presidentials.  Sometimes they have to "land out" — make an emergency landing — at Twin Mountain Airport, but not often.  It's like a whitewater river up in the sky — and it's a whole new way to see my favorite places — a bird's eye view.  I love to wave my wings at the hikers on the Cannon observation deck, to stare down at the endless rows of cars parked on I-93 in the Notch.
I still love to hike, of course.  More than a few times I've hiked a local route in the morning — Franconia Ridge, North Kinsman — and then flown over the very same peak in the afternoon.  I've grown to appreciate how well the two sports fit together.  Hiking keeps me grounded, rewarding me with views I know I've earned.  Soaring lifts me up, rewarding technical skill and courage with views that I know nobody else has but the birds.
***
Although we're a volunteer club, at Franconia Soaring we also run a commercial business, taking members of the public up for glider rides they've sometimes been dreaming about for their whole lives — and they rarely walk away disappointed.  I can't tell you how many people climb out of the cockpit at the end eyes wide open, raving about the "ride of a lifetime." For a lot of people, it's a bucket-list item.  It should be.
"Will I like it?" people often ask me.  "Is it scary?"  If you're terrified of heights, or dread flying commercially, then save your money.  Ditto if you get motion sickness.  "Can you read a book in the car without getting sick?" we usually ask.  If so, you'll probably be fine.  I take that back: you'll probably be thrilled.
Small airports like ours are like the baseball diamond in "Field of Dreams." Every weekend we're open, people drift over, park their cars, get out and stare at the planes taking off — as if drawn by some magnetic force.  They are aviation lifers, plane people, guys like my uncle who flew once in high school and ever since have always looked up in the sky whenever they hear a plane.  I believe there's something elemental about flying that calls to us — and there's something particularly special about flying in its purest form — soaring free like a bird in the wind.  
It's more than just a sport.  It's a dream made real.