Last year I posted twice about the North Fork of the Pemigewasset river: the wilderness creek boating adventure of the White Mountains.  Unfortunately, the spring of 2016 was a bust: we got almost no rain between March and October, with some parts of New England experiencing a serious drought.
I spent the whole year hoping the North Fork would run, and it didn't.  Then I spent this spring wanting to run it, and for a variety of reasons, not being able to.  Still, I found myself excited to see what was in there, and I wasn't going to let a lack of water stop me.  I decided to hike in this past Saturday to scout the run.
With my wife headed out the door early on Saturday morning anyway, I set a plan get up early.  I'm an early riser by nature.  I've never been able to sleep much past 8 am, even if I've been up all night.  I tend to regard the mornings as my best, sharpest time; as for the evening, I tend to agree with famous literary critic Samuel Johnson, who had a line from the Bible engraved on his watch: "The night cometh, when no man can work." So with a sunny day and the prospect of a beautiful hike into an alluring river before me, I had no trouble rousing myself at 6, downing a cup of tea and some energy bars, and jumping out of the car at the Zealand trailhead by 6:30 am.  There were dozens of cars in the lot with dew on them — these must have been people spending Friday night at the popular AMC Zealand hut.  A lone female hiker was just setting off as I curled the car into my parking space, and after 15 minutes of lacing my boots, loading my pack, and wolfing another energy bar, I set it as my goal to pass the woman before the first stream crossing.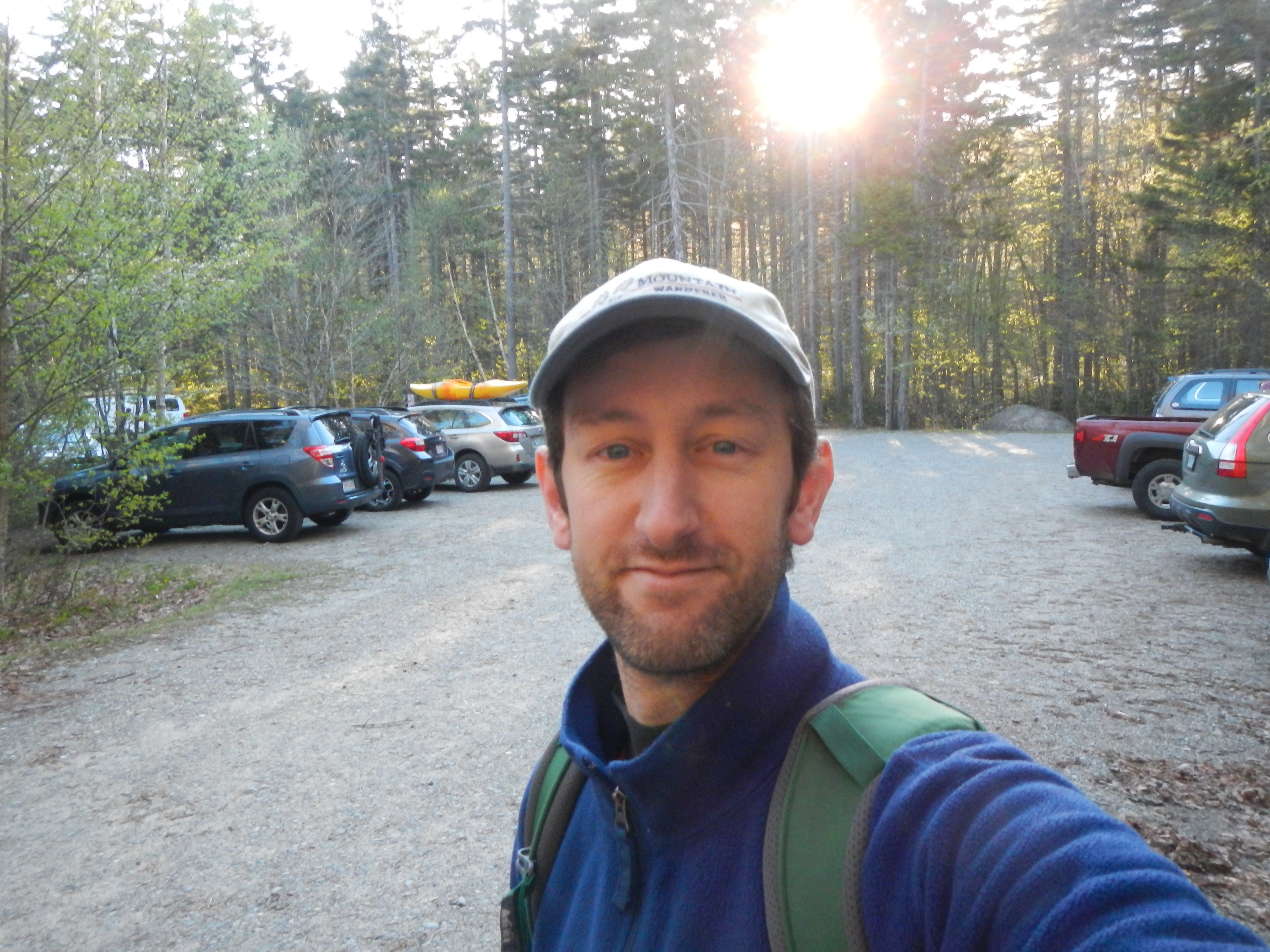 As first sunlight crept into the gorge, I quickly blew by the woman and ribboned my way up into Zealand Notch via the network of boardwalks spanning streams, bogs, and beaver ponds.  The trail was flat and my legs, folded up most of the week beneath a desk, wanted to GO.  It was all I could do to keep myself from breaking into a run at the excitement of being in the woods again, headed toward a remote river with rapids I very much wanted to discover for myself.
It's pernicious, really, the effect of a week spent behind a computer: too much screen time makes your neck hurt, your shoulders slump, and worst of all, your attention span dwindle to zero.  I'd spent the week grading student papers, preparing lesson plans, answering emails, and in between those tasks, checking the Washington Post for the freshest political news story breaking out of Washington's most tumultuous week.  Pinging — that's the word for it.  I was pinging from website to website, task to task.  I'd open an article and then immediately leave it, open a new tab, and tell myself I'd read it later.  So many websites are devoted to getting your attention, to getting your clicks — but in doing so, they destroy your attention span.  I click on articles and stories and then I don't even read them.  I flit from site to site and scroll through endless Facebook photos without any enjoyment.  It's almost entirely devoid of pleasure — a compulsion — finally, an addiction.  And now, deep in the woods, I felt the incredible rush of peace and tranquility as I got away from it all.  The sights and sounds suddenly manifested themselves around me: the singing of birds, the bright colors of trees and flowers, the warmth of the sun, the rising mountains around me, the rushing of a brook.  Ahead the Pemi Wilderness, the largest track of land with no roads in the White Mountains, was like a great blanket folding protectively around me.
Soon I was in new territory for me — crossing through the depth of Zealand Notch and pausing to look up at Zeacliff, the guidebook-cover view where I'd once hiked with my wife on our tour of the Bonds two years before.
There are two ways to paddle the NF Pemi.  The "easier" way — both in terms of whitewater and in terms of hiking — is to do the hike I had just done, and to put on Whitewall Brook, paddling this river for a few miles into the North Fork.  I had relegated this idea in my mind for three reasons:
It dumps you into the North Fork downstream of the best rapids
Whitewall Brook itself contains no whitewater
Whitewall Brook — says anyone who has run it before — is usually clogged with beaver dams and fallen trees
Still, I couldn't resist going for a look myself.  Here's what it looked like: narrow, flat, and unremarkable.
After that it was back up to the trail, and then, in a shockingly short time, I found myself at the trail intersection for Thoreau Falls.  Last winter, I'd hiked here with my wife from the other side, from Ethan Pond, and on a 20-degree day, with feet and feet of snow on the ground, and precious little daylight, Thoreau Falls had sure felt a long, long way from anywhere.  How long had it taken us to get there?  Two and a half hours?  Three?  But I'd worn boots and microspikes then.  Now, wearing shorts and a light pack, I was amazed to have covered the same distance in just an hour and a half.
The other way to run the North Fork is to hike in to Ethan Pond — the way my wife and I had done it — and to put on the North Fork shortly below the pond.  Now if you could actually put on close to the pond, this would be worth it, but you can't.  The river is far too small and strainer-filled to put on even a mile downstream of the pond.  When I'd scouted the year before, I concluded that you couldn't really put on until about a half mile east of the Shoal Pond Trail junction.  But I could see on the map that the river wasn't very steep between that point and the footbridge that crosses the river about a half-mile upstream of Thoreau Falls.  So I decided to start my scout here, at the footbridge.
I should note that on this day, the North Fork was clearly too low to have run in a boat.  The East Branch of the Pemi gauge was at 900 cfs and falling reasonably fast.
Here's what I found . . .
Just below the footbridge were three or four bedrock slide rapids that looked really fun.  Here they are in order: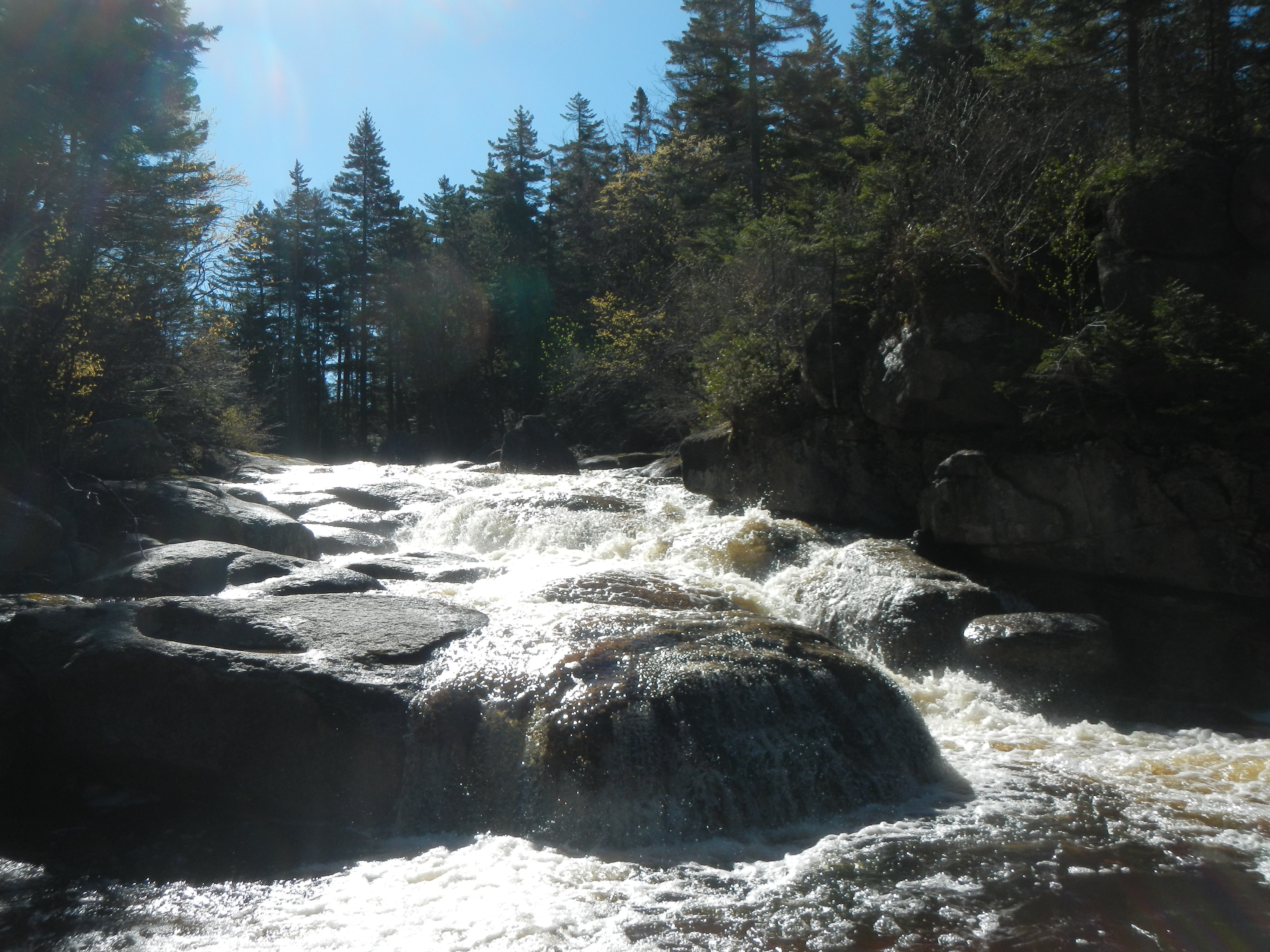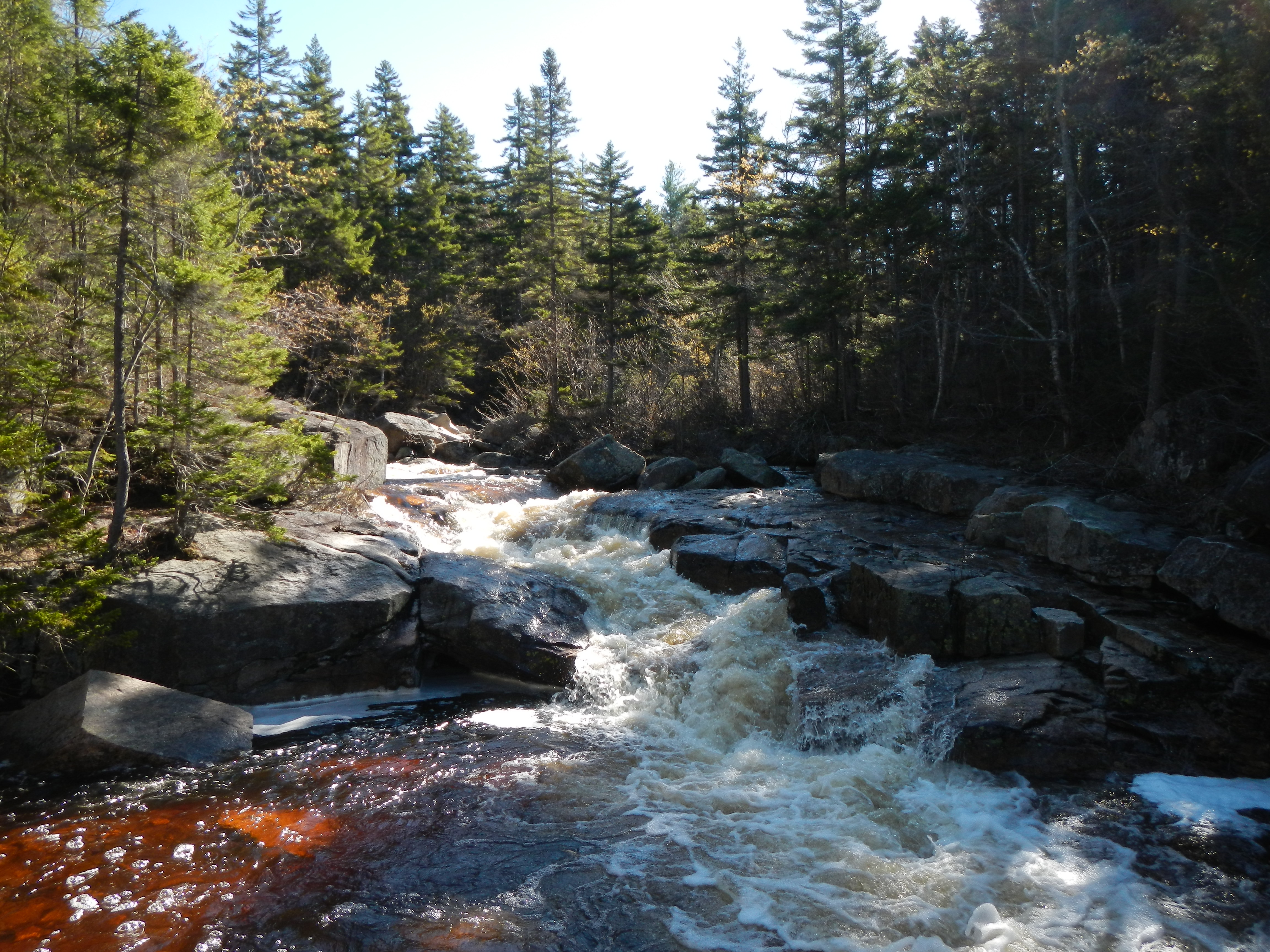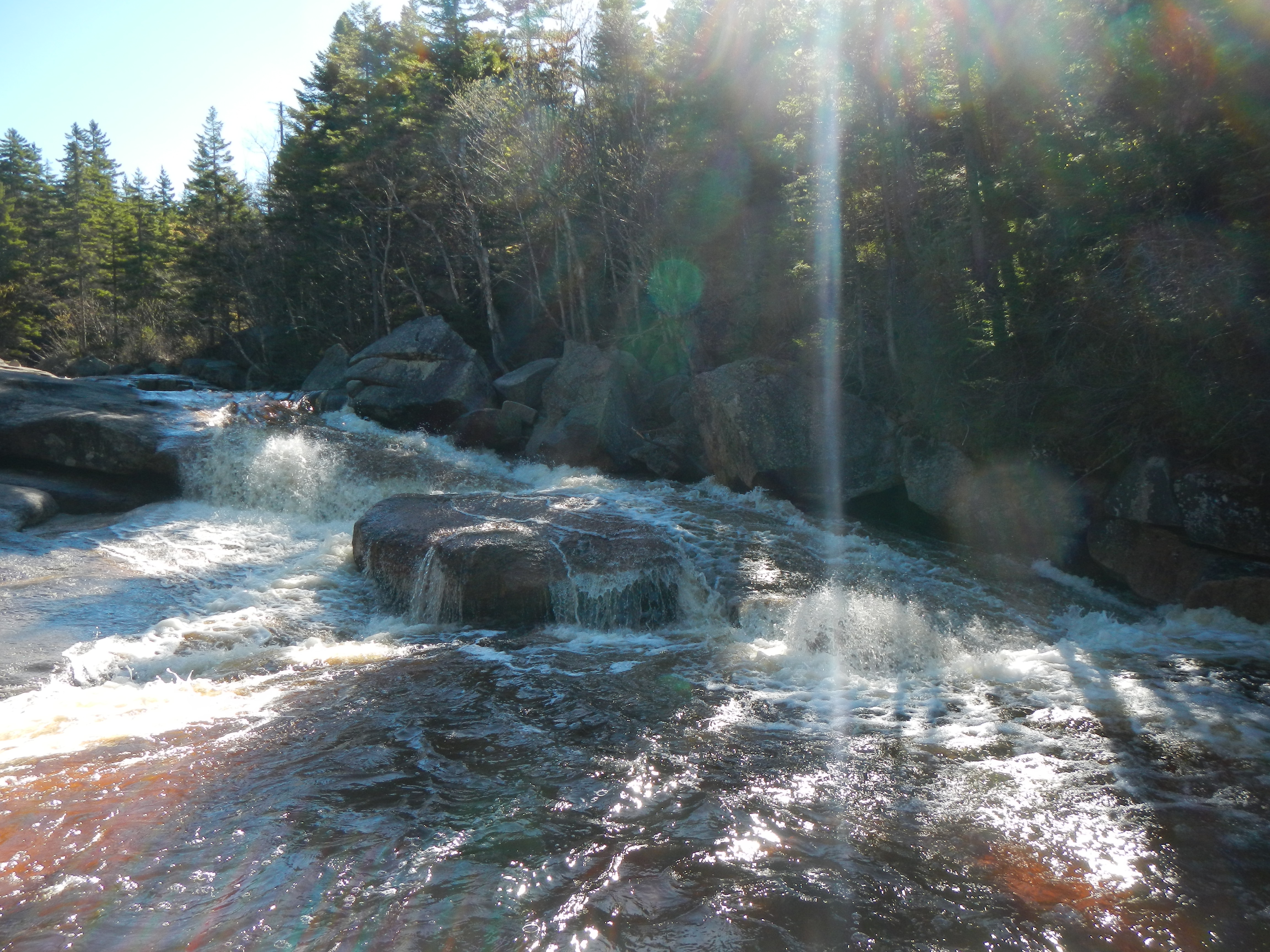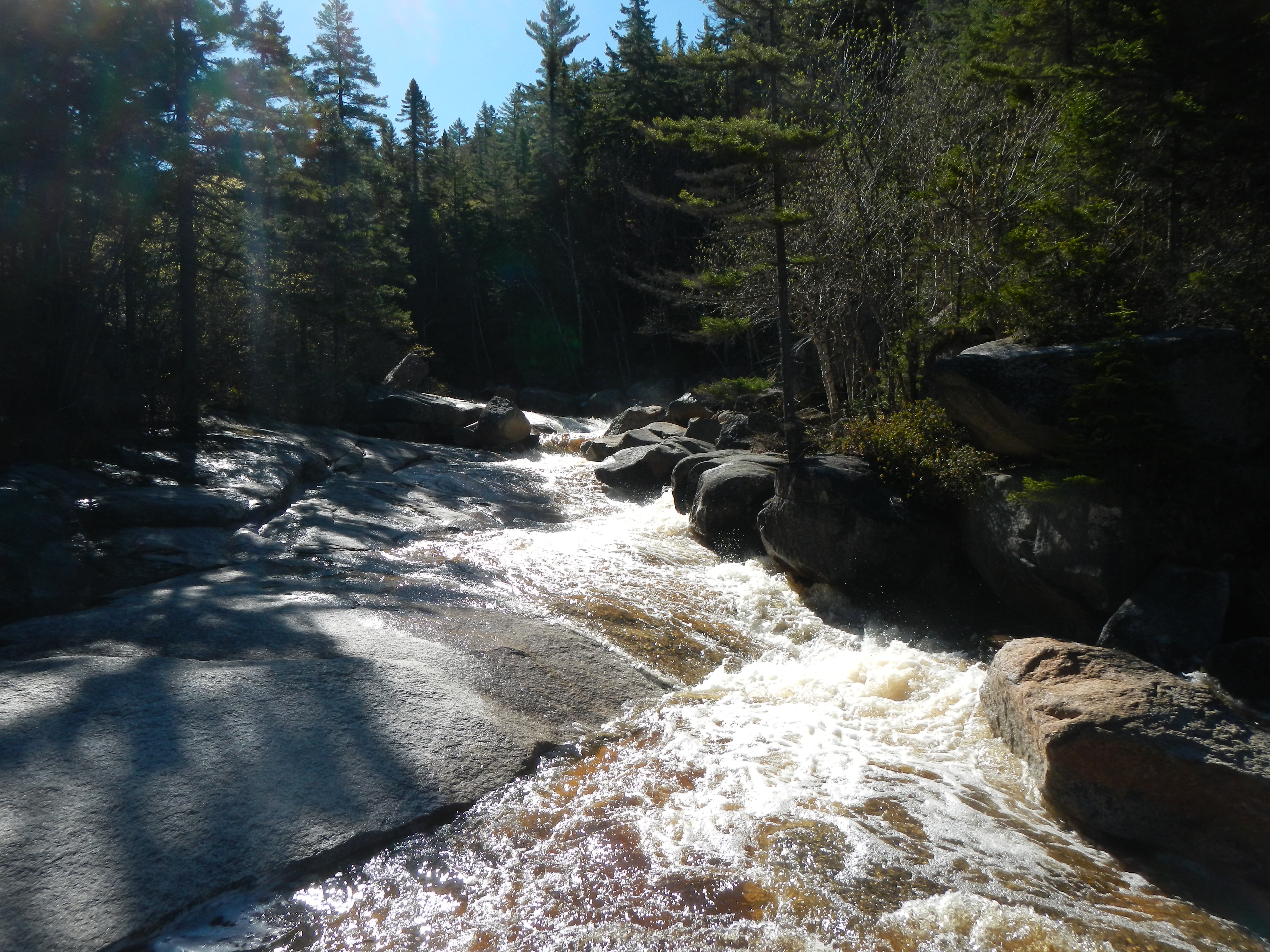 Then there's the edge of the world: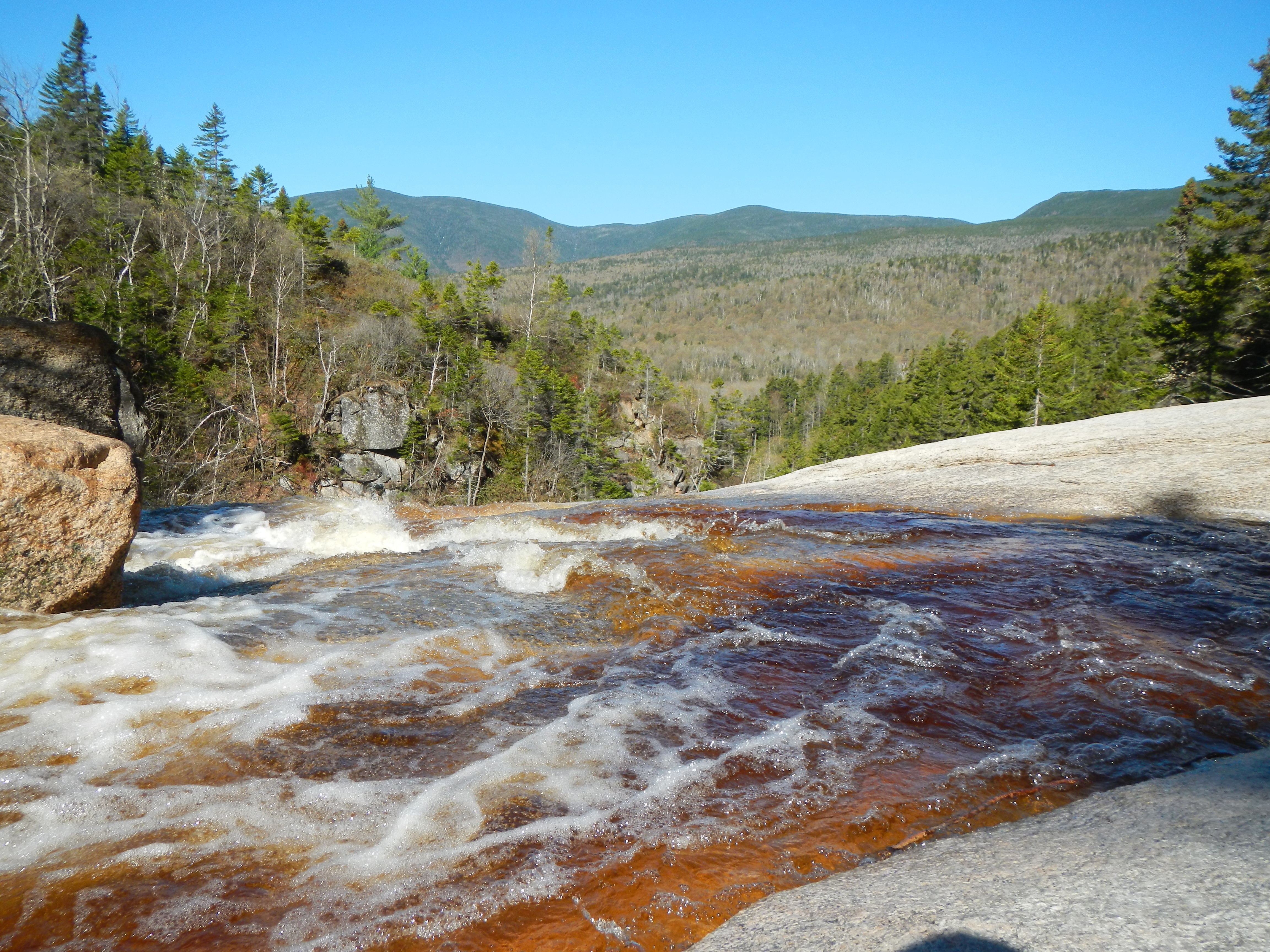 That's the horizonline for Thoreau Falls, a HUGE, much-photographed waterfall.
Here is what it looks like from below: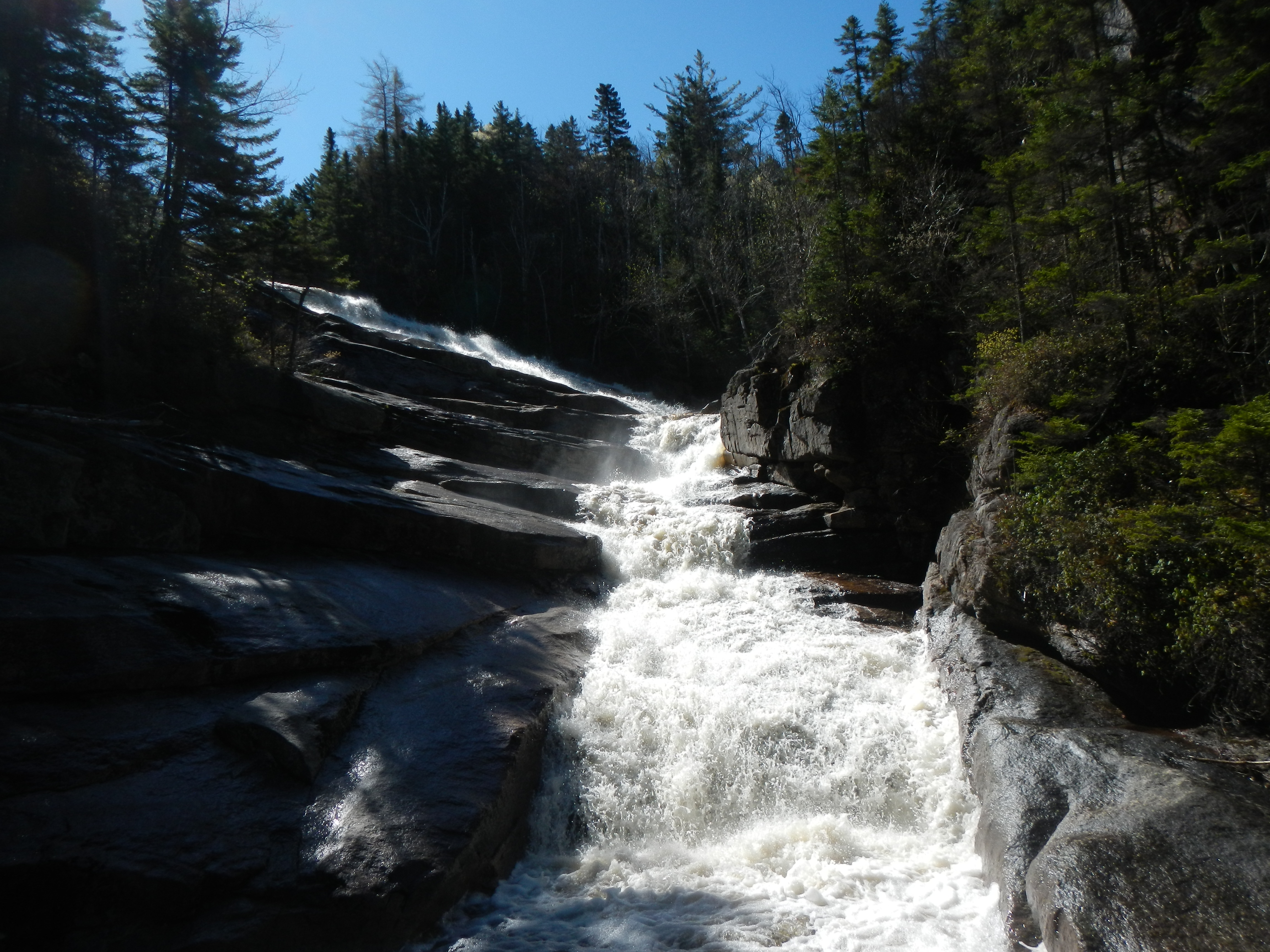 Reminds me of that huge slide in Yosemite that was on the cover of that old Scott Lindgren boating video, "Aerated."
Boaters have speculated about whether Thoreau Falls is runnable in a kayak.  Here's what I think:  If someone held a gun to my head, I'd seal launch in and run the bottom half.  If no one had a gun to my head, and I was having a really, really good day, and it was all roadside, I'd seal launch in and run the last fourth.  As it is, I think I'd just as soon skip the whole damn thing.
Directly below Thoreau Falls, the North Fork charges down seven or eight super-steep rapids.  They're not generally as clean as the rapids above the falls, but like those rapids, they're bedrock: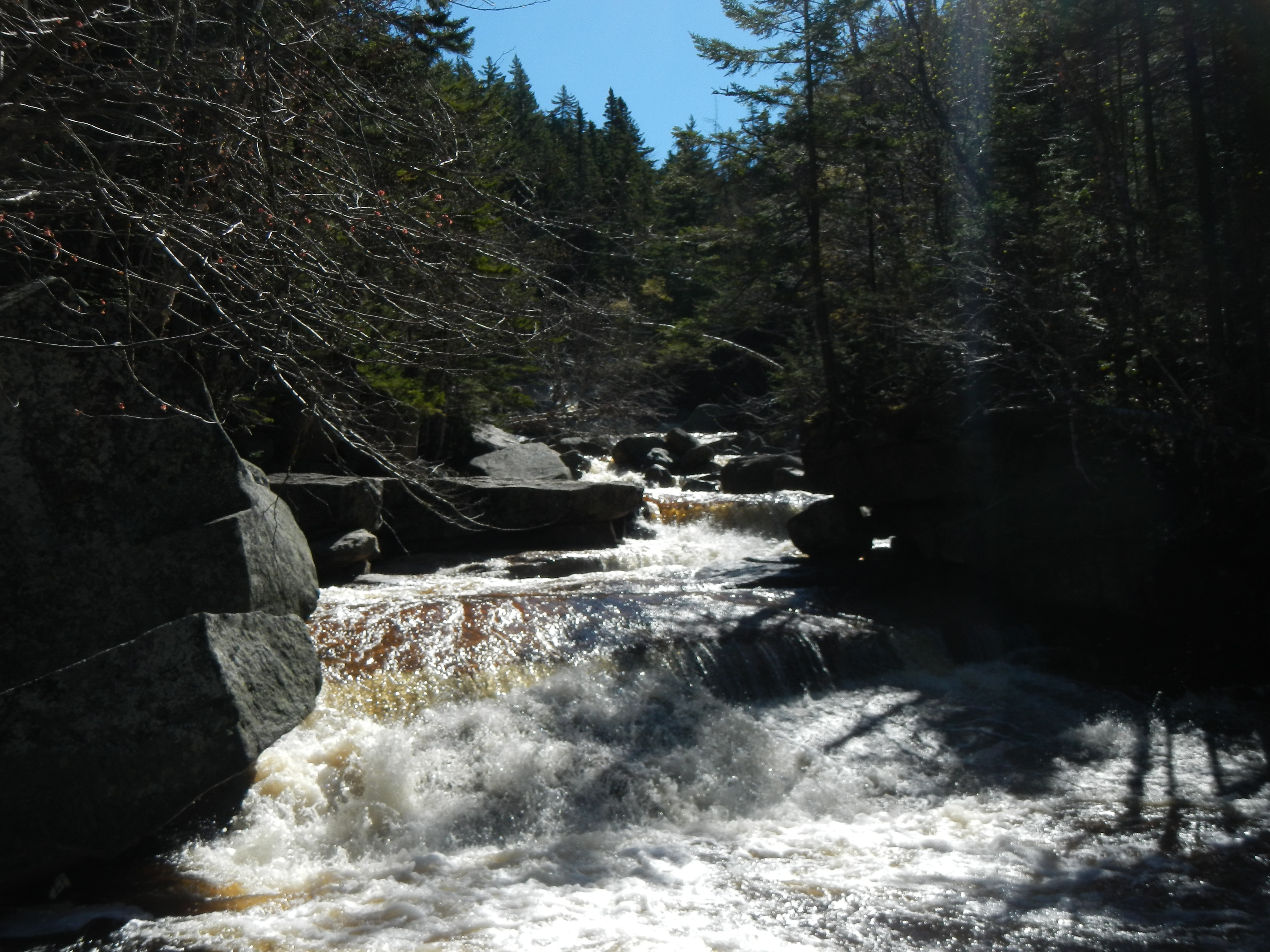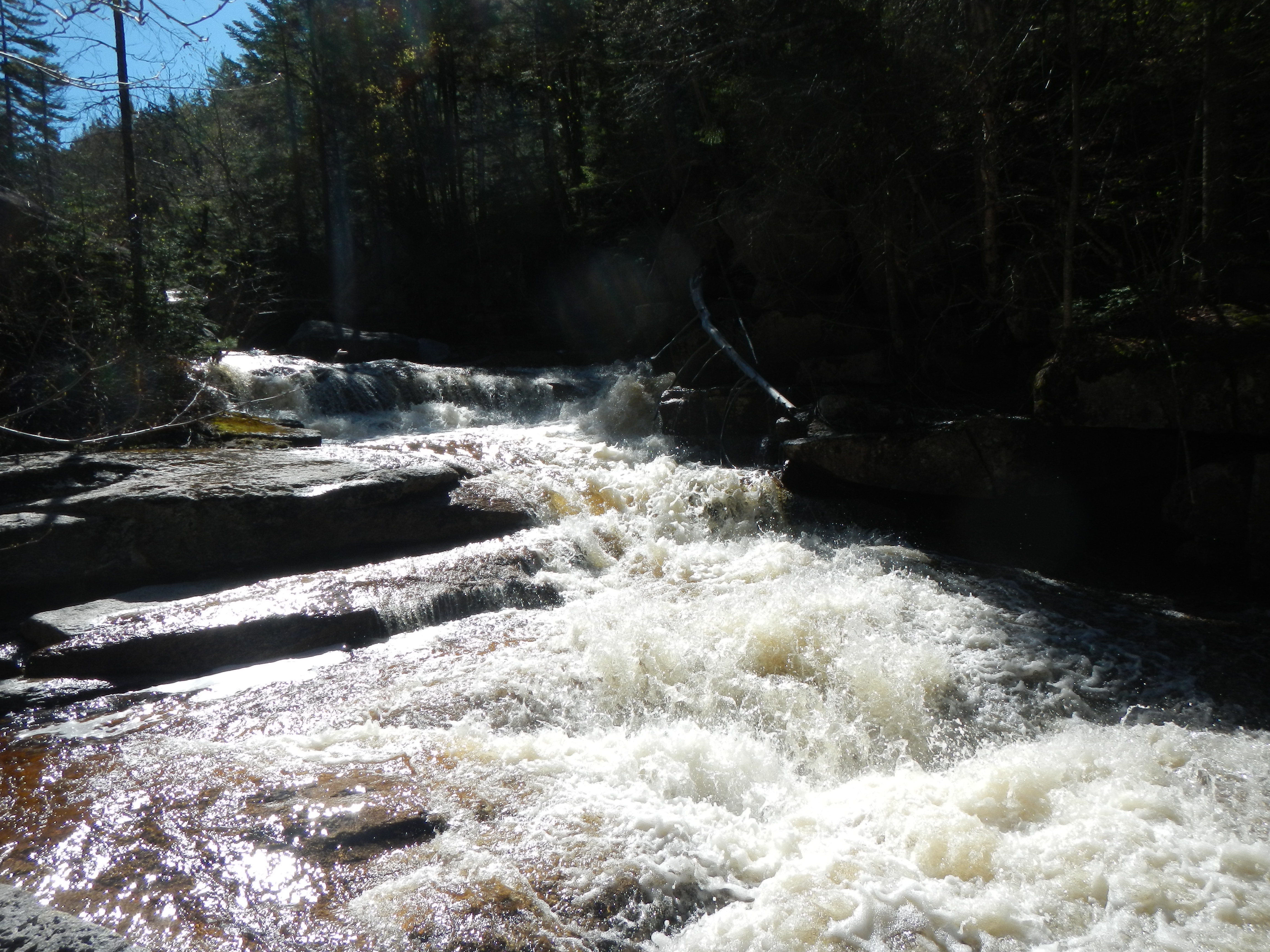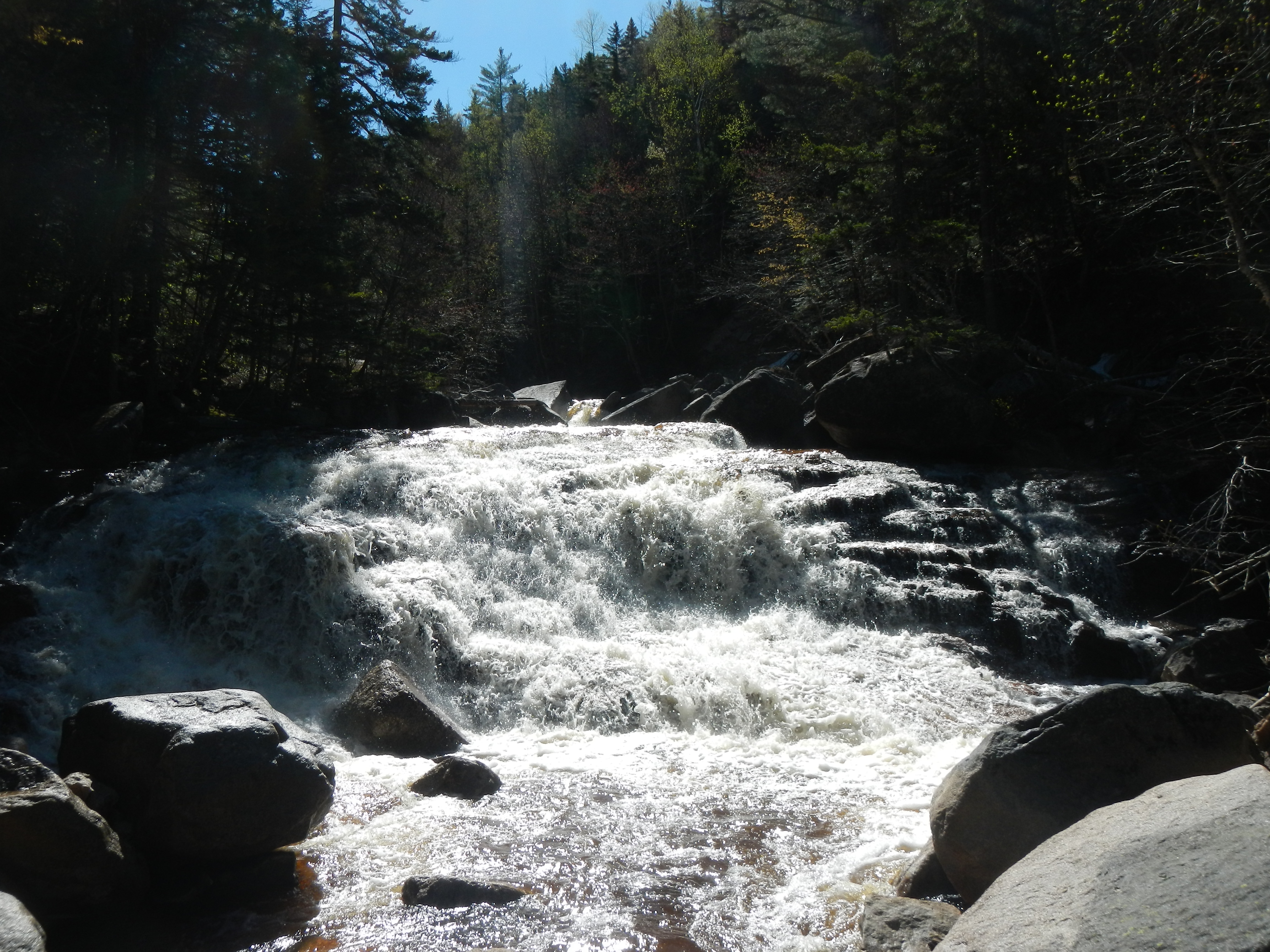 The rapids with boulders in them looked more marginal: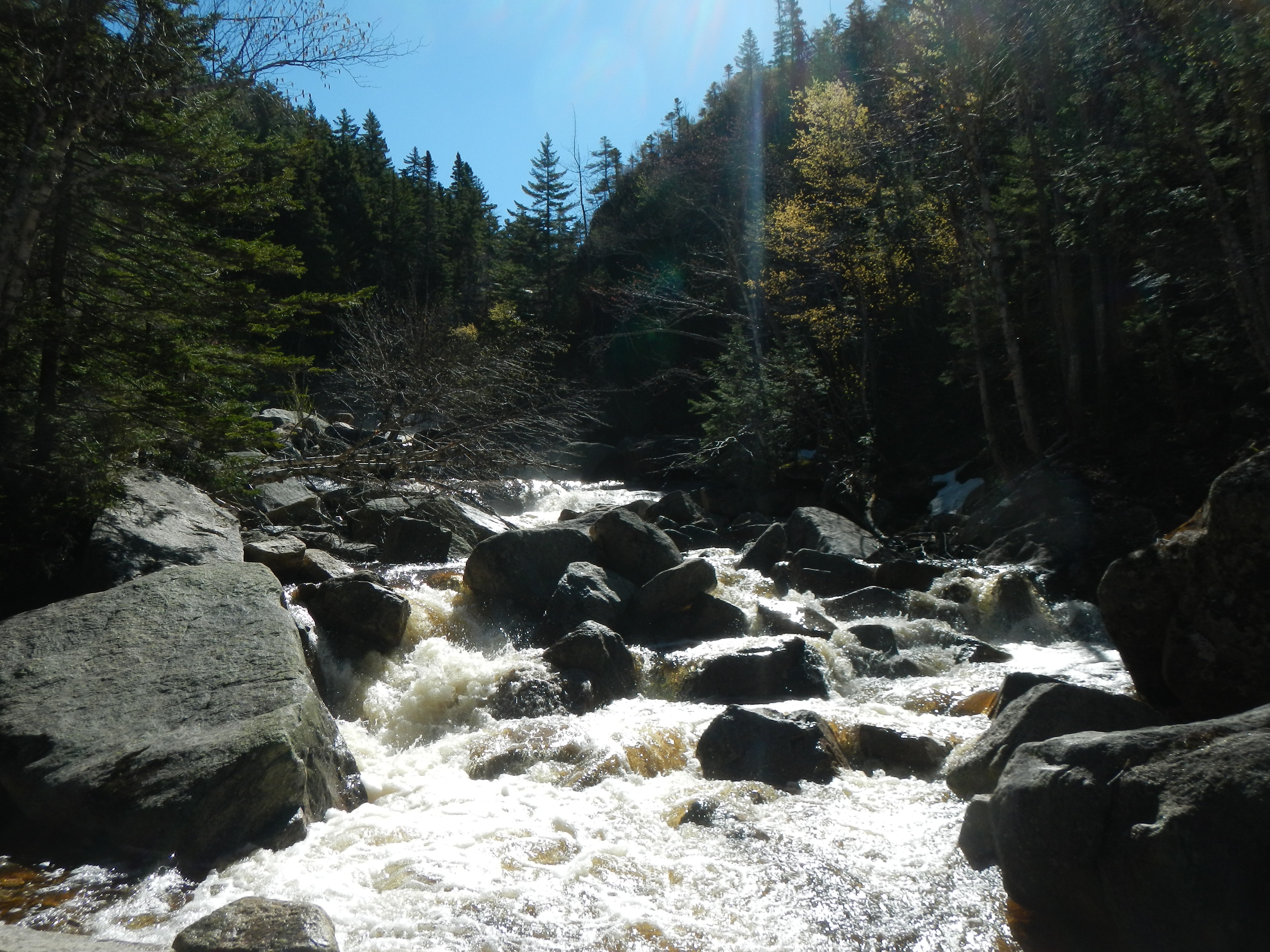 It was slow going, crawling through the thick trees on shore.  I even stumbled across an ancient rusted gas can far up on shore, proving that man really can intrude on even the most inaccessible land.  Eventually it seemed like I'd hiked down to where it looked like the gradient began to relent, but there may be more downstream that I didn't see.  I do know that not far downstream, the North Fork joins up with Whitewall Brook, and the river relaxes to class II and III for some distance.
The rest of the run is still a mystery to me: almost ten miles of intermediate rapids, the longest stretch of whitewater in New Hampshire that nobody ever runs.  I can't wait to see what's down there.
My assessment is that it's probably best to hike in as I did, from Zealand, even if you intend to put on the North Fork, not Whitewall.  Hiking up the AT from Ethan Pond is, in my mind, a waste of energy.  That hike is no shorter to Thoreau Falls than the one I did (both are about five miles), and the Zealand hike — provided that Zealand Road is open — cuts off about 900 feet from the Ethan Pond hike.  What I did is not exactly flat, but it's not far off.
While the East Branch of the Pemi is not a perfect indicator, it's not a bad one either.  At 900 cfs and falling, the river at Thoreau Falls was definitely too low.  I think you'd want the East Branch to be at least 1,300 cfs, and probably more like 1,800 — double what I had for the scout.
I am hoping to go back when the water's up, but this time to take my boat.  Carrying a 40 pound creek boat for five miles is not ideal, but I believe the solitude, the exciting rapids, and the sense of adventure on the North Fork of the Pemi would make the carry-in more than worth it.  I also think that while it would be fun to run Whitewall Brook into the North Fork someday, the true heart of the run includes the big rapids at Thoreau Falls.  That's what I want to do.
Ten or twelve class V rapids, followed by ten miles of class II-IV — where else in New England do you get that?
And besides, as I realized on my hike back to the car that morning, it's not really about the rapids.  It's about the leaving the road behind and getting into your kayak and going somewhere that it would be really hard to get into otherwise.
In the end, the North Fork of the Pemi is about the adventure.
I can't wait.