Back when I taught in Washington, D.C., my high school students were spectacularly bad at geography.  Not only did they struggle with finding other countries on a map, they struggled with U.S. states.  
They were especially bad at New England.  
"Come on!" they'd moan.  "Connecticut, Massachusetts — what's the difference?"
"That's not Massachusetts," I'd say, glancing at their maps.  "That's Canada."
Once I complained to a friend about their ignorance.  
"New England is easy to mix up," he said.  "All the states up there are so small — you know, like Delaware."
I grant you this:  there are two New England states you could be excused for mixing up.  They share a border, a similar shape, and a near-microscopic size on most maps.  They are the 43rd and 44th smallest states — just a few hundred square miles different in size.  
But here's what's fascinating.  Even though they're both small, predominantly white New England states that look almost identical, Vermont and New Hampshire could not be more different.
The Basic Differences
The narrative goes like this: Vermont is a left-wing hippie commune.  New Hampshire is a libertarian income-tax shelter.  Vermont has green, pastoral mountains.  New Hampshire's state symbol is a giant piece of granite.  Vermont is peace, love, and Bernie Sanders.  New Hampshire is "Live Free or Die." People are drawn to Vermont for the unspoiled beauty.  People are drawn to New Hampshire because taxes got too high in Massachusetts.  Vermont banned billboards in 1968.  New Hampshire has billboards advertising billboard design.  Vermont or New Hampshire?  People are instinctively drawn to one or the other.
Me?  I was a Vermonter.  I was born there.  I went to college and fell in love and started a career there.  Then, two years ago, a job prospect pulled me across the border.  I wasn't looking forward to it.
I'll admit: I was a Vermont snob.  I'd spent the past few years drinking Heady Topper and skiing at Mad River Glen and indulging my map addiction at Outdoor Gear Exchange on Church Street in Burlington and hiking the Long Trail and thinking life didn't get any better than the Green Mountain State.
We Vermonters can be smug.  We think, Vermont is intelligent.  Vermont is hip.  Vermont is craft beer and locally sourced food.  Our mountains are picturesque, our politics progressive, our ski towns are world famous: Stowe, Killington, Stratton.  Even our companies (Ben and Jerry's) and our colleges (Bennington) are subversive and cool.
Now I had been to New Hampshire, of course.  I had skied Tuckerman's Ravine, hiked the Franconia Ridge, and kayaked almost every river in the White Mountains.  I had spent a good number of nights hanging out at Dartmouth when I was in college (none of which I remember).  I liked to visit New Hampshire, but that didn't mean that I actually wanted to live there.
If Vermont was paradise, New Hampshire was sort of . . .  wild.  Where Vermont has nice, green, lush mountains, New Hampshire is home of the world's worst weather: Mt. Washington, where 100 mile per hour winds, temperatures of 40 below zero, and honest-to-god avalanches are routine.  Every year hapless souls set out to hike Mount Washington on sunny, 70 degree summer days, only to find themselves digging snow caves to survive some freak August snowstorm that plunges the temperature into the low single digits.  You drive around New Hampshire and look up at these giant granite protrusions — most of which make Vermont's mountains look like sand castles — and notice eight-ton blocks of stone cantilevered straight out over your car a thousand feet up and hope it's not too windy.  The state's rock slides — including the famous Old Man of the Mountain, which plunged to the ground in the middle of the night in 2003 — are legendary, resulting in the many slides and scars that cover the mountains.  
Everyone I know who has hiked or skied or climbed in New Hampshire has some riveting survival story involving once-a-generation winds, or of huddling for shelter above treeline as lightning bolts strike in the same ten-foot radius for twelve hours, or of taking a wrong turn hiking and wandering around subsisting on roots and insects for weeks in one of the county-sized tracts of uninhabited land that cover the Whites and which support the kinds of search and rescue teams that have multiple helicopters and a staff with paid dental benefits.  In Vermont, it's mostly idiots trying to ski the backcountry who wind up getting lost on the backside of Stowe or Killington and calling for directions on their cell phones.  In New Hampshire, there are whole books devoted to gruesome wilderness deaths and disasters.
Not to mention that the towns in New Hampshire — at least in the White Mountains — aren't so much towns as revenue streams: waterparks, funparks, candy counters, ice castles, the Hobo Railroad, even a trained bear show — all of it aimed at tourists.  And billboards — lots and lots of billboards.
To me, New Hampshire felt like a giant national park: either disconcertingly wild, or depressingly commercial.  Of course I didn't want to live there.  You visit a national park.  You don't live in one.
Imagine my surprise.  Two years later, not only do I like living in New Hampshire, I like it better than living in Vermont.  How?  Well, allow me to make a quick comparison between the two states, involving some of the most important categories that you should consider before moving to a place.  Sure, some people would include such seemingly-important items as "schools" or "housing prices." But the fact is, I don't have kids, don't own a home yet, and possess the financial savvy of a college freshman.  I should also note that I have never actually been to southern New Hampshire.  I know people will say things like, "You can't compare a state when you've never actually visited half of it — the half where everybody actually lives." To them I say, stop exaggerating.  I've driven to Boston.  That passes through southern New Hampshire, right?  Just because I live in the part of the state with more bears than school-age children doesn't mean I can't compare my state to Vermont.
Without further ado, The List . . . 
Taxes
New Hampshire is one of nine states in the U.S. not to have an income tax.  We're one of five without a sales tax.  This is all part of the state's lauded "live free or die" ethos.  We keep the government off our hard-earned paycheck here in New Hampshire.  Except, of course, when it comes to any kind of fee whatsoever.  The cost to renew my car this year: $435.  And don't forget property taxes: New Hampshire's are the third-highest in the United States.
Still, we're not as bad as Vermont.  In a measurement of overall "tax burden" (the sum total of all taxes), Vermont has the ninth highest rate in the country: 10.5%.  New Hampshire?  Seventh lowest: 8%.  If you make $50,000, you'll have an extra $1,250 in your pocket in the Granite State.
Advantage:  New Hampshire
Fast Food Crap and Big Box Stores
Having done a 180 since I was in college, I am generally unable to set foot in any fast-food restaurants (I was traumatized by the documentary "Supersize Me," I think).  Meanwhile, Vermonters are ideologically opposed to not only chain restaurants, but big box stores.  Vermont has just four WalMarts: the fewest in the nation.  New Hampshire, by contrast, has 26.  Vermont also has zero Dairy Queens.  (And with Ben and Jerry's, who cares?)  Montpelier residents take pride in being the only state capital without a MacDonald's.  Concord, New Hampshire's capital, has three.
Advantage:  Vermont
Health
A win-win here.  Both states are some of the most active, least obese, and least heart attack-prone in the country.  The 2015 United Health Foundation's annual measurement ranked New Hampshire the fifth healtiest state in the United States.  Vermont?  Second.
Very slight advantage:  Vermont
Colleges
Vermont is home to my alma mater, Middlebury, but New Hampshire has Dartmouth, which, from what I can piece together from bleary memories of hanging out at the Ledyard Canoe Club in the early 2000s, is not a whole lot different than Midd.  
Both New Hampshire and Vermont have pretty respectable flagship state universities, and while Burlington surely gets the nod as a great place to live, nowadays you have a better chance of getting into UVM if you're from New Jersey and your father owns a pharmaceutical company than if you're from the Northeast Kingdom and your father owns a dairy farm.  Sixty-six percent of UVM students are from out of state.  At UNH?  Just 40%.  Not surprising given that while in-state tuition is similar at both (around $28,000), out of state tuition at UVM is $50,000, while at UNH it's just $41,000.  Whether the mass of non-residents at UVM paying top dollar represents either a money-grab or just a reflection of Vermont's tiny population, I'm not sure.  But I do know that as a Vermont teacher, UVM is definitely not on the radar anymore for a lot of our kids that it should be.
Meanwhile, the rest of Vermont's state college system ranges from solid (Castleton) to less-than-solid.  New Hampshire has a fairly robust state college system, with several strong options (Plymouth, Keene), one that's not even part of the state system, although it sounds like it is (SNHU), and of course Granite State College (based on the name, I'm guessing that they don't coddle you there).
Advantage (slight):  New Hampshire
Attention From Presidential Candidates
In the past six months, my town of Littleton, New Hampshire (population 5,928) has been visited by almost every major presidential candidate: Hillary Clinton, Lindsey Graham, Rand Paul, Bernie Sanders, Carly Fiorina, Jeb Bush, Chris Christie, and even John McCain (stumping for Graham).
Meanwhile, Burlington, Vermont (population 42,284) has been visited by exactly one candidate.  President Obama, who Vermont elected by a wider margin in 2012 than anywhere else except his home state, didn't even bother setting foot in Vermont until 2012 — after he'd been elected for a second term.  
And that's not unusual.  How many times did Bill Clinton and George H.W. Bush each visit Vermont?  Just once.  Carter, Reagan and George W. Bush never visited at all.  In Vermont, your vote is taken for granted.  In New Hampshire, it's courted.
Major Advantage:  New Hampshire
Best Hike
In Vermont, that would undoubtedly be Sunset Ridge on Mount Mansfield: a gorgeous spine up the west side of Vermont's tallest peak, Mount Mansfield.  Sunset Ridge gets you above treeline reasonably quickly — a rarity in Vermont — and in the evenings is an ideal place to watch the sun disappear behind the Adirondack Mountains in the distance.
But everything great about Sunset Ridge could be folded quite comfortably into the first half of New Hampshire's best hike.  The Franconia Ridge is a dramatic, alpine traverse across a blade-thin ridge line with soaring views in all directions.  It'd be like walking from Mt. Mansfield to Camel's Hump — except a lot higher in the air, and not quite as far.  Sunset Ridge is arguably the best hike in Vermont.  Franconia Ridge is arguably the best hike in the eastern United States.  
And that's just day hikes.  Some might call the 20+ mile wilderness tour of the Bonds the best hike in New Hampshire.  This trip through the Pemigewasset Wilderness summits three wildly isolated four-thousand foot peaks: Mount Bond, West Bond, and the iconic Bondcliff.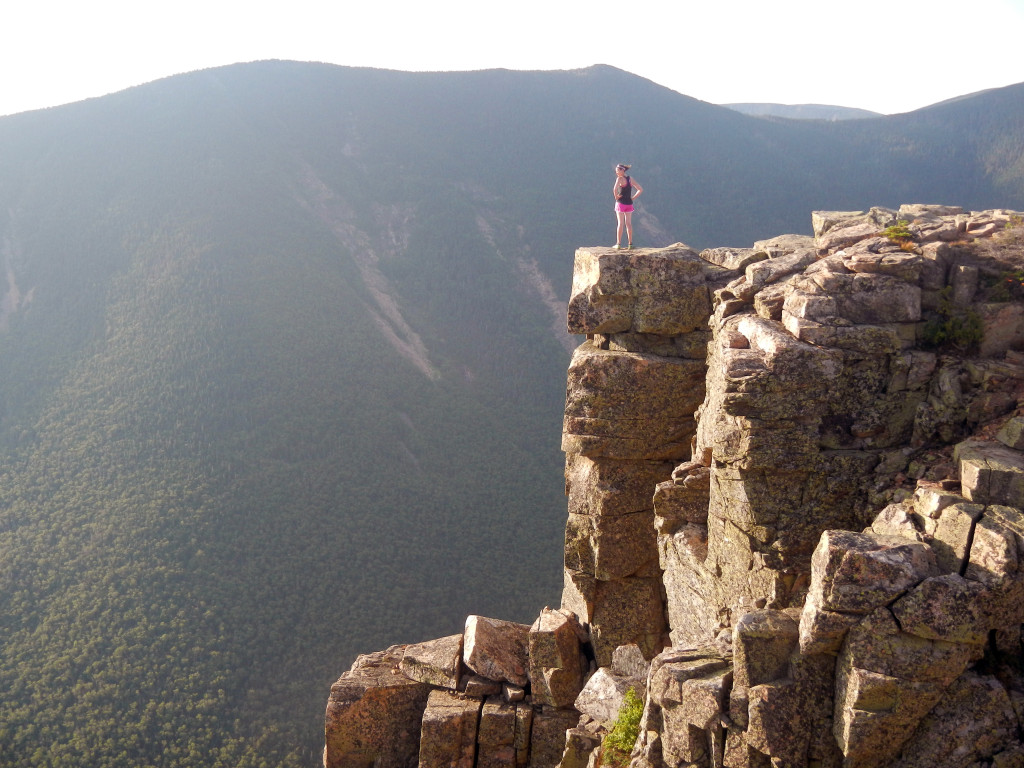 There's nothing even remotely like it in Vermont.
Major Advantage:  New Hampshire
General Outdoor Stuff
Vermont is certainly no slouch in this department, especially in the winter.  But I realized pretty early on that New Hampshire basically has all the same stuff available — but way more of it.  For example, you want hiking?  Vermont has five peaks taller than 4,000 feet (and only two of them — Mt. Abe and Camel's Hump — aren't home to ski areas).  New Hampshire has 48, and almost none of them have ski resorts.  You want lakes?  Vermont has Lake Champlain, which is sort of a draw, but New Hampshire has Lake Winnipesaukee.  And the ocean?  New Hampshire's got that too — 18 miles of coastline with a couple of beaches.  It's not exactly Cancun, but they don't have it in Vermont.  
In New Hampshire, you can learn to hang glide.  You can rock climb the east coast's tallest single wall or largest free-standing spire.  You can take a glider ride at the best airport for glider soaring in New England.
And what about just cool stuff to see — natural attractions?  There's nothing in Vermont like the kind of really short, uber-dramatic hikes that New Hampshire offers (Mt. Willard, Artist's Bluff), as well as the remarkable roadside attractions (the Flume, the Basin, Cascade Brook, Crawford Notch).  There are waterfalls that put anything in Vermont to shame (Arethusa Falls, Sabbaday Falls, Glen Ellis Falls).  Most of these are within easy hiking distance of main roads.
When we moved over here two years ago, we started to realize that when you have friends or family in town, there's actually a lot more for them to do in New Hampshire than there was in Vermont.  
Advantage:  New Hampshire
State Motto
Vermont:  "Freedom and Unity"
New Hampshire:  "Live Free or Die"
I mean, is it even close?  Has there ever been a cooler state motto than New Hampshire's, ever?  If you want to ride your motorcycle at 70 miles per hour without a helmet, dammit, you can do that here in New Hampshire.  Don't want to wear a seatbelt?  New Hampshire is the only U.S. state that doesn't require it of adults.  "Live Free or Die" isn't just a motto for us.  We mean it.
Major Advantage:  New Hampshire
The Verdict
I never thought I'd be saying this, but New Hampshire is the better place to live.  Of course, in the grand scheme of things, both states are great and people are attracted to one or the other.  Vermont, especially, has some sort of mystique about it.  But they're both great, and perhaps in the end not quite as different as the popular narrative would have you believe.  Either way, one could certainly do a lot worse than either state in choosing a place to live.  You know, like Delaware.