Last week, writing my post about John Dewey's morality, which frankly has completely disappeared from my brain even after I spent so much time trying to understand it, I made a comparison that I wanted to revisit.  I was talking about the big difference that emphasis, not factual interpretation, can have on a thinker's import.  I was comparing Burke and Dewey – two thinkers who both ostensibly value a balance between impulse and custom (to use Dewey's phrases), but whose contrasting emphases make all the difference: Dewey's faith in impulse and scientific deliberation to refresh and improve society against Burke's faith in custom and institutions to buffet against human impulse.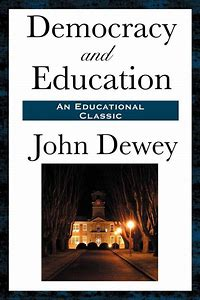 I was also making the point that although I agreed with Dewey's point that moral knowledge can be generated the same way as scientific knowledge, I thought it important that Dewey was most interested in repeating this point in order to steer us away from dogma, rather than to focus on what this wisdom of the past (on which we can build) includes.
Specifically, I compared Dewey's stance here to his stance in his educational writing – specifically his emphasis on skills and process over traditional subject matter.
This is all in the context of a broader critique that I was writing about pragmatism: first, that it's relativist; second, that it is based on a hyperbolic vision of change; third, that its vision of growth for growth's sake is strange; fourth, that it's a method but not a goal, a corrective philosophy, but not a foundational one.
Dewey was famously critiqued for starting an entire movement that was hostile to traditional subject matter; he has also been well-defended against these charges by critics who seem even more knowing. In fact, I have read this apparent defense of Dewey probably more times than I've read the attacks on him. I am thinking here of E.D. Hirsch's surprising defense of Dewey in his 1996 The Schools We Need. I myself have read and written a lot about Dewey – most of it positive – and yet I'm not sure I ever remember him talking about subject matter or specific content.
So this made me curious – is Dewey agnostic on content, as his critics allege? Or is he a supporter of some content, and I just hadn't picked up on it?
Continue reading

"Does John Dewey Care About Subject Matter?"